Las Vegas Sportsbooks Become U.S. World Cup Fans Until the Final
Mason Levinson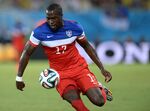 Las Vegas bookmaker Jimmy Vaccaro will be rooting for the U.S. men's national soccer team today, even though a win over Belgium in the World Cup's round of 16 would mean losing money.
The sportsbook at the South Point Casino, which Vaccaro manages, is benefiting from extra action due to U.S. success at the tournament in Brazil this month, enough to override the slight loss his casino would absorb with an American victory today.
"After the NBA playoffs, there's down time," Vaccaro said in a telephone interview. "This just creates interest, and to a bookmaker, anything that creates interest is good for the overall picture."
Americans are paying attention to soccer at record levels during the World Cup, helped by the U.S. advancing to the knockout round and the tournament's Brazilian locale, allowing for live midday viewing of matches. The U.S. team's group-stage draw with Portugal was seen by an average of 24.7 million people on ESPN and Univision, making it the most-viewed soccer game in U.S. history.
Vaccaro's support for the U.S. will become an even bigger gamble if the team continues to advance. Before the tournament, South Point offered odds on the U.S. winning the World Cup at 200-1. The casino, which now is offering 20-1 on a U.S. title, has about a $400,000 exposure if that happens.
"I'm one who says let's keep winning and see what happens down the road," Vaccaro said.
Today's game is scheduled to begin at 4 p.m. New York time at Arena Fonte Nova in the eastern coastal city of Salvador.
$165 Win
A successful bet at South Point on the U.S. eliminating Belgium would net $165 on a $100 wager. Belgium is the No. 11 team in FIFA's world rankings, while the U.S. is 13th.
Belgium advanced to the knockout stage with wins over Algeria, Russia and South Korea. The U.S. beat Ghana to open its group-stage play before drawing against Portugal and falling to Germany.
"They were a huge underdog in the first few games, and now it's very close," Vaccaro said of the U.S. "Belgium is a favorite and should be a favorite, but not by much."
The U.S. has a 26 percent chance to advance, according to Bloomberg Sports projections. It also may benefit by the availability of striker Jozy Altidore, who missed the previous two games because of a left hamstring injury. Altidore, who plays for Sunderland in the English Premier League, scored in a U.S. team-record five straight games last year. He has 21 career goals for the national team, second among current players behind captain Clint Dempsey, who has 37.
Only Homes
The U.S. followed its draw against Portugal on June 22, a Sunday, with a 1-0 loss against Germany on June 26, a Thursday. With ratings company Nielsen Media Research focused on homes rather than offices, restaurants and outdoor venues, the workday afternoon match with Germany drew 10.8 million viewers on Walt Disney Co.'s ESPN, a 41 percent decline from the previous match.
"For a cable network on a Thursday afternoon in the summer to do 10.8 million viewers, and you know that number's more, that's very impressive," said Brad Adgate, director of research at New York-based Horizon Media Inc.
Adgate said in a phone interview that he expects today's game to draw more viewers than the U.S.-Germany match, perhaps helped by it airing later in the day and during a holiday week in which many people aren't working.
"It's going to be a very healthy number," Adgate said.
Next Opponent
Today's other round-of-16 match is at 1 p.m. between Lionel Messi-led Argentina and Switzerland in Sao Paulo. Whichever country emerges will take on the U.S. or Belgium on July 5. If the Americans advance to play on Saturday, Adgate said there probably will be another viewership record.
"That will break 30 million," he said.
Nick Bogdanovich, the director of trading at the William Hill sportsbook in Las Vegas, said there's been three times the amount of wagering on this edition of the World Cup as there had been in others he was involved with.
"The public is really involved in this competition and they are backing the USA heavy in every match," Bogdanovich said in an e-mail. "If they somehow get by Belgium it will be a steamroller into the next game."
Before it's here, it's on the Bloomberg Terminal.
LEARN MORE