Kyrie Irving Agrees to NBA Extension With Cavaliers Through 2019
Erik Matuszewski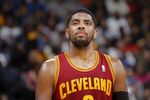 Kyrie Irving agreed to an extension with the Cleveland Cavaliers that will keep the All-Star point guard under contract for the next six seasons, owner Dan Gilbert said.
While National Basketball Association players can't officially sign new deals until July 10, Gilbert said on his Twitter account that the two "just shook hands" on the extension, without disclosing financial terms. Irving will receive a maximum value deal that will pay him $90 million over five seasons beginning in 2015, according to NBA.com.
Irving, 22, said on his Twitter account that he's "ecstatic" about staying in Cleveland for the "long haul."
The top pick in the 2011 NBA draft, Irving has averaged 20.7 points and 5.8 assists a game over his first three seasons in Cleveland. The Cavaliers have had a 78-152 record over that stretch, however, and Irving could have left the organization as an unrestricted free agent in 2016.
The Cavaliers fired coach Mike Brown after last season and replaced him with David Blatt, who will take over an NBA team for the first time after coaching in Israel, Greece, Turkey and Russia. Cleveland, which hasn't had a winning record in the four years since LeBron James left to sign with the Miami Heat, also had the top pick in this year's draft and selected Andrew Wiggins from the University of Kansas.
"Super excited and blessed to be here and a part of something special," Irving wrote on Twitter.
Before it's here, it's on the Bloomberg Terminal.
LEARN MORE