Kidd's Departure From Nets Was a Business Decision, GM King Says
Erik Matuszewski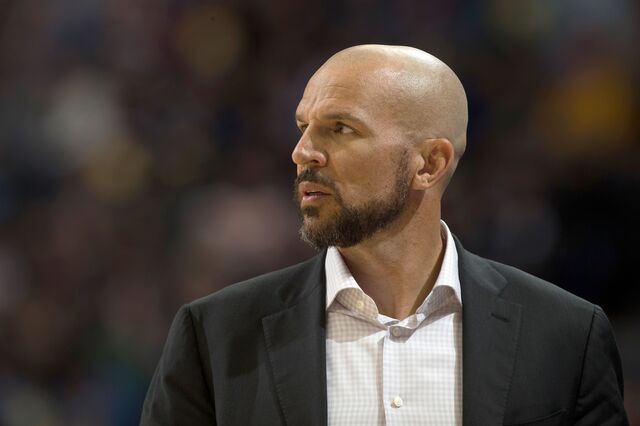 Jason Kidd's departure from the Brooklyn Nets after one season was a business decision, according to General Manager Billy King, who said he'll seek a replacement with more experience as quickly as possible.
Kidd today was hired as coach of the Milwaukee Bucks after being let out of the remaining three seasons on his four-year, $10.5 million contract with the Nets. Brooklyn received two future second-round draft picks as compensation for Kidd, who had a 44-38 record in his coaching debut following a 19-year National Basketball Association playing career.
After last season, Nets ownership declined Kidd's request to be promoted above King and give him control of the team's basketball operations, the New York Post reported. King said today at a news conference that he became aware of the situation the day before last week's NBA draft.
"It's a big bump, but something we have to overcome," King said of Kidd's exit.
King said he bears no hard feelings, calling Kidd a great leader on and off the court, and that there's no reason to "sling any mud" at the former point guard, whose 12,091 assists rank second all-time.
"There were times we butted heads, but that happens," said King, adding that the team's initial hiring of Kidd was an organizational decision, not just ownership.
King said he's reached out to several candidates to replace Kidd and had dinner last night with Lionel Hollins, who most recently coached the Memphis Grizzlies. King said the Grizzlies improved throughout Hollins's tenure, though he wasn't offered a new contract in 2013 after the team went a franchise-best 56-26.
Experience Sought
King said while the Nets are "going to go with experience," they'll look at college coaches as well as former NBA coaches.
The Nets rebounded from a 10-21 start this past season, knocking off the Atlantic Division-winning Toronto Raptors in the first round of the playoffs before losing in the Eastern Conference semifinals to the Miami Heat.
Although some fans have expressed frustration with Kidd's departure, his jersey will continue to hang from the rafters at the Barclays Center in Brooklyn. King said Kidd earned the honor after spending six seasons with the Nets as a player, leading the team to back-to-back appearances in the NBA Finals in 2002 and 2003.
"We're not where we were a week ago," King said. "But we can get back quick."
Before it's here, it's on the Bloomberg Terminal.
LEARN MORE