Cameroon Soccer Federation Probes World Cup Fix Allegation
Tariq Panja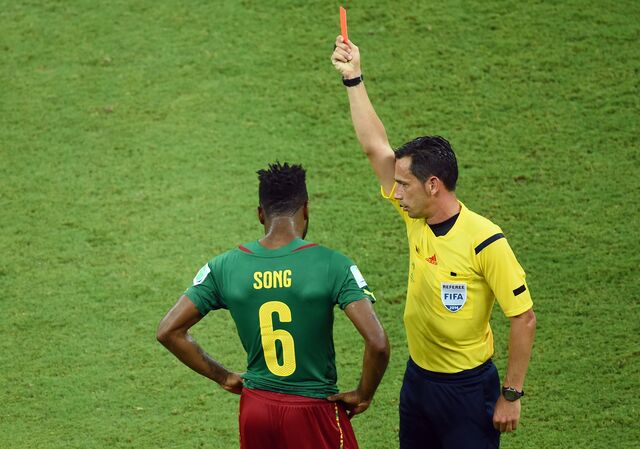 Cameroon's soccer federation has started an investigation into claims made by a German news magazine that its players fixed games at the World Cup.
Cameroon lost all three of its matches in Brazil and conceded nine goals before being eliminated in the group phase with the worst record of the 32 competing teams.
Germany's Der Spiegel magazine claimed convicted fixer Wilson Raj Perumal correctly forecast that it would lose 4-0 and have a player sent off in its game with Croatia on June 18. Perumal denied the magazine's accusations.
"We wish to inform the general public that, though not yet contacted by FIFA in regards to this affair, our administration has already instructed its ethics committee to further investigate these accusations," Cameroon's soccer federation, known as Fecafoot, said on its website.
"We are strongly committed to employ all means necessary to resolve this disruptive matter in the shortest delays."
Cameroon midfielder Alex Song was sent off before halftime after elbowing Croatia's Mario Mandzukic, leaving his team with 10 players for the majority of the game. Defender Benoit Assou-Ekotto also attempted to head-butt teammate Benjamin Moukandjo in the same match.
FIFA spokeswoman Delia Fischer declined to comment. She told a news conference in Rio de Janeiro that the soccer ruling body only comments on match-fixing inquiries once its disciplinary or ethics committees come to a decision. Ralf Mutschke, FIFA's head of security, said in a pre-tournament interview that he was concerned at the amount of money the biggest fixers have at their disposal.
Dan Tan
Mutschke said a suspected fixer called Tan Seet Eng, known around the world as Dan Tan and arrested by authorities in his homeland Singapore last year, told authorities he offered bribes of as much as $1 million. European police body Europol last year said it uncovered a Singapore-based network responsible for rigging or attempting to fix 680 local, national and international matches across the world between 2008 and 2011. Italian authorities named Tan as the head of the gang. He remains in custody in Singapore. Perumal had been part of Tan's syndicate.
After losing its opening game 1-0 to Mexico, Cameroon finished its tournament with a 4-1 loss to host Brazil.
The investigation is the latest setback for African soccer at the World Cup, where Algeria yesterday was the last team eliminated from the region. Players from Cameroon, Ghana and Nigeria disputed tournament related pay with their federations. A private jet carrying $3 million in cash was dispatched by Ghana's President John Dramani Mahama before the team's last game to end a player revolt.
Before it's here, it's on the Bloomberg Terminal.
LEARN MORE