Bubble-Era Debt Dwindling in New Commercial Mortgage Boom
Sarah Mulholland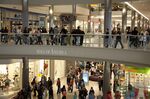 Landlords are paying off more boom-era loans early, chipping away at $316 billion of debt maturing through 2017 that has loomed over the commercial-mortgage backed securities market since the credit seizure six years ago.
Owners of U.S. properties from skyscrapers to hotels have extinguished $17 billion of debt before it was due during the past 12 months, more than four times the amount retired before maturity in 2011 and 2012 combined, according to Credit Suisse Group AG. Proprietors of the Mall of America, the largest shopping center in the U.S., are getting a $1.4 billion loan to repay borrowings that don't mature until 2016.
Borrowers who otherwise may have struggled to repay their mortgages after property values plunged as much as 42 percent from their 2007 peak are getting a reprieve as central banks globally ply the financial system with cheap cash. That's prompted everyone from banks and insurers to pension funds and foreign investors to turn to real estate as an alternative to evaporating yields.
"Financing has improved quite a bit, giving borrowers more options," Roger Lehman, a bond analyst at Credit Suisse, said in a telephone interview. "They are taking advantage rather than waiting until loans actually mature."
Spreads Narrow
The global rush for higher-paying investments has driven down the extra yield investors demand to own commercial-mortgage bonds over benchmark borrowing rates. The spread on top-ranked bonds has dropped 10 basis points this year to 77 basis points, according to JPMorgan Chase & Co. The securities have gained 2.8 percent this year, compared with a 3.3 percent return for corporate bonds of similar duration.
Sales of commercial-mortgage securities doubled to $80 billion last year. Issuance is reviving after the market froze in 2008, following a record $232 billion sold in 2007. About $39 billion has been sold this year, Bloomberg data show.
JPMorgan and Barclays Plc are marketing $1.26 billion of commercial-mortgage bonds linked to 73 loans on 84 commercial properties across the U.S., including a top-ranked slice maturing in 9.9 years that may pay a spread of 78 to 80 basis points.
Delinquency rates also are dropping as bad loans are flushed from the system. Payments more than 30 days late fell 24 basis points to 6.28 percent last month, according to Nomura Holdings Inc.
Mall of America
While loans packaged into securities typically are prohibited from being repaid early, borrowers can get an exemption from the restriction if they can replace the bondholders' lost income. That option, known as defeasance, is typically done by substituting the repaid debt with Treasuries.
Mall of America's owner, Edmonton, Alberta-based development company Triple Five Group, will likely defease the existing $775 million mortgage, according to Credit Suisse. The property was valued at $1 billion when the current loan was originated in 2006, according to data compiled by Bloomberg.
The proprietors of First City Tower, an office building in Houston, opted to defease a $93 million mortgage in May after refinancing the debt with a $275 million loan from TIAA-CREF, according to Real Capital Analytics Inc. The property was valued at $215 million when it was originated in 2006, according to the New York-based research provider for commercial real-estate.
Boiling Frogs
Even as borrowers repay their crisis-era obligations, the competition between lenders to originate new debt is prompting banks to loosen terms to compete. That's triggering concerns that standards are falling towards the norms that existed before the market crashed in 2008.
The size of loans relative to property values, a measure known as loan-to-value, or LTV, has climbed to within 10 percentage points of its pre-crisis peak of 117.5 percent reached in the third quarter of 2007, Moody's Investors Service said in a report last week. The ratings firm warned in an April report that the easier terms left investors facing a case of "boiling frog syndrome," where they fail to react to gradually increasing threats until it's too late.
Federal Reserve policy makers that have fueled the demand for riskier assets with unprecedented stimulus measures also have warned of investor complacency. After leaving unchanged the short-term target rate the Fed has held near zero since December 2008, and reiterating that it's likely to stay low for a while, Chair Janet Yellen cited "evidence of reach-for-yield behavior" in comments to reporters.
Abundant Capital
Even with the easy-money policies, the most overleveraged borrowers will struggle when the bill comes due. Many of the loans that have paid off early are backed by higher quality properties that stand out in an uneven real estate recovery, said Lehman of Credit Suisse.
Price growth in major markets such as New York and San Francisco are outpacing increases in smaller cities and towns. In the largest markets, values have exceeded the pre-crisis high by 7 percent, while those in smaller markets are stuck at 14 percent below the peak, according to the Moody's/RCA Commercial Property Price Index.
Commercial mortgages are commonly written with a 10-year term, leading to a wave of loans coming due in 2016 and 2017 as debt from the peak years matures.
The larger debt loads, while making borrowers more prone to defaults, are helping landlords refinance some of those loans, according to Richard Hill, a debt analyst at Morgan Stanley.
"Loans that may have been left for dead several years ago are being bailed out given the abundance of available capital," he said.
Before it's here, it's on the Bloomberg Terminal.
LEARN MORE