Birth-Control Coverage Disputes Revived by Supreme Court
Greg Stohr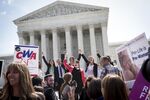 The U.S. Supreme Court revived claims by two companies that say they object to providing any birth-control coverage to their employees, telling a lower court to revisit their cases.
Acting a day after ruling that closely held companies can claim a religious exemption from the contraceptive requirement in President Barack Obama's health-care law, the justices also rejected the administration's appeal in three cases.
The high court orders today are noteworthy because the cases all involve companies fighting to avoid coverage of any form of contraceptives. Yesterday's ruling concerned companies, including the craft-store chain Hobby Lobby Stores Inc., that object only to a few forms of birth control that they say can induce abortions.
Among today's cases was an appeal by Eden Foods Inc., which bills itself as the oldest natural and organic foods company in North America. The company's founder and sole shareholder, Michael Potter, is a Catholic who says he views contraceptives as immoral. The company, which is based in Clinton, Michigan, has 128 employees, according to court documents.
A federal appeals court said Eden Foods had to comply with the Obamacare requirement that companies include contraceptive coverage in any employee health-care plan.
The second case involved Autocam Corp., based in Kentwood, Michigan, which makes auto parts and medical devices.
Before it's here, it's on the Bloomberg Terminal.
LEARN MORE