Bank of England Creates New Unit to Crunch Economic Data
Emma Charlton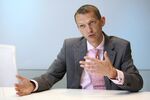 Bank of England Chief Economist Andy Haldane is building a unit to improve data crunching as he reshapes economic analysis in his new role at the institution.
Paul Robinson, formerly the global head of foreign-exchange research at Barclays Plc, has joined the BOE as head of advanced analytics and will run a small team recruited internally, according to a spokesman for the London-based BOE. Robinson will report directly to Haldane, along with a head of research, who will run a second newly created unit.
The moves come as Governor Mark Carney's sweeping changes begin to take effect at the BOE, and the design of the two new teams mirrors his plan to integrate departments after a review by McKinsey & Co. Both units will work with the institution's monetary analysis, financial stability and supervision areas, remits that also reflect the expanded role Haldane took on in his new position.
"It sounds like an office for Haldane, reporting directly to him," said Rob Wood, an economist at Berenberg Bank and a former BOE official. "One thing the bank's analysis has been criticized for in the past is focusing too much on helping set interest rates month-to-month and this may be an example of trying to broaden beyond that."
Under Carney's "One Bank" plan, one of the biggest overhauls of the BOE since it was founded more than 300 years ago, Haldane, 46, formerly executive director for financial stability, swapped jobs with Spencer Dale last month and took on a broader role overseeing research and statistics. Haldane will speak on a panel at 5 p.m. in London today.
New Roles
The revamp also saw Ben Broadbent become deputy governor for monetary policy, the addition of a fourth deputy governor role to take charge of markets and banking, while Gareth Ramsay took over day-to-day economic projections. Yesterday was Broadbent's first day in his new role.
Last week the BOE advertised for a head of research to increase the "quantity, quality and impact" of such output. The new recruit will build a "research hub" into which "bank staff can be temporarily seconded to work on key central bank policy issues, which may span different areas or require specialist expertise," according to the ad. Applications close on July 11.
The advanced analytics team and the research hub will be separate from the monetary analysis teams led by Ramsay.
Robinson is returning to the central bank after leaving for Barclays in 2006. He was previously in a role known as head of the U.K. team, responsible for economic projections and briefing the BOE's Monetary Policy Committee before each rate decision.
Robinson is not the only former Barclays employee to return to the central bank in recent months. Simon Hayes, former chief U.K. economist at Barclays and another former head of the U.K. team at the BOE, now runs macroeconomic projections.
Before it's here, it's on the Bloomberg Terminal.
LEARN MORE