As GM Adds Millions to Recall Ranks, Are Any Models Unblemished?
By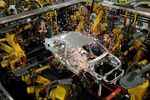 With General Motors recalling an additional 8.45 million vehicles on Monday, it no longer makes sense to ask about the cars that have been recalled. The better question might be: Which GM vehicles haven't been recalled at this point?
In the market for a used Cadillac? The 2006 model year should probably be crossed off your shopping list. There's only one model that hasn't been recalled so far: the STS V-series. Even Cadillac's hearse that year has been deemed dangerous.
The 2007 model year offers a little more of a safe harbor for used truck buyers. The mid-sized Silverado 1500 and 2500 trucks are recall free, even though the baseline Chevy truck and the burly 3500 have five recall warnings between them.
How about something more luxurious and recent such as a 2010 Buick? Buyers will find an unblemished record for the Lacrosse and Regal, but they might want to steer clear of the four-year-old Enclaves and their three recalls, as well as the Lucernes, with two potential problem spots that include the infamous ignition-switch glitch.
All told, GM has been recalling far more vehicles than it has been selling. Since the end of 2003, U.S. buyers have driven away in 33.1 million new GMs and the company has urged customers to bring in 57.4 million vehicles for repairs.

Even before this year's wave of recalls, the safety warnings were almost trumping new car sales. If you're shopping for a used GM, you can check its recall record by punching the VIN into this GM website or pulling up the year and model at this NHTSA site.
Still, there are worse things than a trip to the dealership for a quick ignition swap, and GM buyers seem to realize it. The company reported a slight uptick in June sales on Tuesday morning, once again beating the estimates of analysts, who had predicted a 6.3 percent decline. The company sold almost 267,500 vehicles in all. That means that on June 18, the day that GM Chief Executive Officer Mary Barra was being grilled by Congress, Americans bought somewhere around 8,900 cars from her company.
The sales engine, it seems, is still running smoothly.