A Not-Very-Happy 93rd Birthday for China's Communist Party
by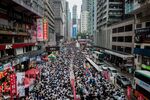 As China's Communist Party observes its 93rd birthday, party leaders are deeply alarmed by growing anti-China sentiment in Hong Kong, including today's massive pro-democracy demonstration and the recent unofficial referendum showing deep distrust of Beijing. A poll released yesterday showed Hong Kong support for China's policies at a historic low.
Meanwhile, general secretary Xi Jinping's repeated warnings that corruption poses an existential threat to the party's leadership of China was given new meaning yesterday. The party's Politburo announced it had expelled four "tigers"—high-level party officials—for massive graft. The quartet included Xu Caihou, former vice chairman of the Central Military Commission, the highest ranking military official to fall so far.
Xu is one of more than 30 prominent civilian and military officials that have been toppled since Xi launched a sweeping anti-corruption campaign in late 2012, according to the Xinhua News Agency. Among those downed yesterday are the former head of China's state assets commission Jiang Jiemin, former Vice Minister of Public Security Li Dongsheng, and Wang Yongchun, who previously was vice general manager of China National Petroleum, China's largest oil company.
The 87 million-member Chinese Communist Party is facing "severe dangers," particularly from corruption, said Xi at Monday's Politburo meeting in Beijing. "We must insist on governing the party in a strict manner," and "officials at all levels must keep clean, use their power in the right way, and be able to withstand temptation," Xi exhorted the assembled cadres.
"No matter who they are, how high their rank, how powerful they are, those who violate state law and party discipline will be investigated deeply and shown no mercy," said a commentary today on the front page of the People's Daily, the party's official mouthpiece.
The move against general Xu "has further justified President Xi's statement that corruption poses the danger of the ruling Party's collapse and the perishing of the State," said an opinion piece in today's China Daily. "Let's wish the fight a complete success for the revival of the Chinese nation."
Now it's time to blow out the birthday candles.
Before it's here, it's on the Bloomberg Terminal.
LEARN MORE