Robert McDonald Is a Great Choice to Fix the VA—If Washington Doesn't Drive Him Insane
By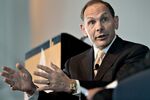 "The choice suggests a real focus on customer satisfaction, as opposed to what you might get from a retired general or medical leader," Phillip Carter, the Center for a New American Security's expert on veterans issues, tells the Washington Post about president Obama's selection of Bob McDonald, former chief executive of Procter & Gamble, to run the Veterans Administration. "It is probably a wise choice."
As widely noted, the move signals that the White House believes the troubles at the VA—including excessive waits for medical treatment and a lack of accountability—reflect a failure of management. McDonald, 61, spent 33 years at P&G and held the role of chief operating officer before becoming CEO. The share price of the company, best known for such consumer products as Tide, Charmin, and Pampers, rose 51 percent on his watch. House Speaker John Boehner (R-Ohio) immediately embraced McDonald as "the kind of person who is capable of implementing the kind of dramatic systemic change that is badly needed and long overdue at the VA."
McDonald, with his long record of success running a large, complex organization, will likely have no trouble identifying what ails the VA and coming up with a plan to begin fixing it. The much harder part will be putting that plan to work. As other executives who've taken a break from the private sector to serve their country have found, Washington can be an intensely frustrating place for people who are accustomed to getting things done.
First off, executives are used to being able to put their team in place swiftly. In Washington, the confirmation of appointees can get held up for months. Former REI Chief Executive Sally Jewell, Obama's second-term Secretary of the Interior, had to wait from July 2013 to February 2014 for the Senate to approve her deputy, Michael L. Connor, even though he's an expert on hydrology and Interior is the largest supplier of water to 17 western States, including several that are experiencing droughts. It's not as if he were a controversial pick. When the Senate finally got around to it, the vote was 97-0.
Second, corporate leaders are used to being able to restructure a division or their whole company, if need be. Good luck to McDonald if he concludes that's what the VA needs. At P&G, he could take a writedown on earnings (anticipating revenue later, and likely be rewarded by investors for expected gains later). At the VA, he'll have to pay for any restructuring out of the current year's budget.
As a CEO, McDonald had to maintain the confidence of a 12-member board of directors. His new board comprises the president of the U.S., every member of Congress, and the American people. Also, he'll get to enjoy having his budget caught up in another annual round of spending fights and government shutdown threats, a paralyzing absurdity to an executive accustomed to multiyear planning.
None of this is to say McDonald can't—or won't—improve the VA. But the work he has cut out for him isn't just taming the agency's corruption and "corrosive culture" but navigating a federal decision-making apparatus that can leave an executive nostalgic for life on the outside.
Before it's here, it's on the Bloomberg Terminal.
LEARN MORE