The NCAA Will Investigate Fake-Classes Scandal at UNC
Paul M. Barrett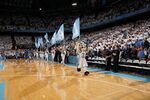 Regular readers of Bloomberg Businessweek know we've taken an interest in the long-running academic fraud scandal at the University of North Carolina. This isn't because we're Tar Heel fans—or foes. It's because the spectacle of Division I football and basketball players being steered into fake classes to maintain their academic eligibility opens a window on larger problems within the $16 billion-a-year industry that is college sports.
For months we've been suggesting that the National Collegiate Athletic Association needs to use its investigative authority to get to the bottom of the role of UNC's athletic program in the corruption of undergraduate education at this great public university. The NCAA took a look in 2011 and '12, but much fresh information has emerged since then, including revelations of hundreds of classes that never actually met.
Here's the NCAA's announcement:
"The University of North Carolina, Chapel Hill, was cited by the Division I Committee on Infractions in 2012 for violations in its athletics program, including academic misconduct. As with any case, the NCAA enforcement staff makes clear it will revisit the matter if additional information becomes available. After determining that additional people with information and others who were previously uncooperative might be willing to speak with the enforcement staff, the NCAA has reopened its investigation. The enforcement staff is exploring this new information to ensure an exhaustive investigation is conducted based on all available information. The NCAA will not comment further to protect the integrity of the investigation."
The NCAA's statement followed one from UNC Athletic Director Bubba Cunningham saying the school had "received a verbal notice of inquiry from the NCAA that it will reopen its 2011 examination of academic irregularities." Cunningham also declined all further comment.
For background on this complicated story, here's our cover article on the UNC whistle-blower who did more than anyone else to bring the fake-classes scandal to light. And here's our most recent dispatch on strange developments in the criminal case against a UNC professor at the center of the scandal. For the most detailed on-the-ground reporting in Chapel Hill, peruse the fine work of Dan Kane and his colleagues at Raleigh's News & Observer.
Note: Peter Grauer, the chairman of Bloomberg LP, which owns Bloomberg Businessweek, is a trustee of the University of North Carolina at Chapel Hill and sits on its Foundation Board and the UNC Global Research Institute Board.
Before it's here, it's on the Bloomberg Terminal.
LEARN MORE