Li Ka-shing Kept Awake at Night by Wealth Gap, Waning Trust
Fion Li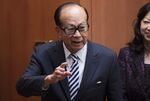 Li Ka-shing, Asia's richest man, says he has trouble sleeping at night because of a widening wealth gap and waning trust that could become "the new normal" if left unaddressed.
The chairman of Cheung Kong Holdings Ltd. called on the government to introduce fresh impetus to enable dynamic and flexible redistribution policies, in his address to students at China's Shantou University, according to a speech posted on the website of the Li Ka Shing Foundation on June 27. The growing scarcity of resources is also keeping him awake, he said.
Li's comments come as the debate over how to elect Hong Kong's next leader in 2017 divides the city, with more than 787,000 people voting in an unofficial referendum against demands by China to control a leadership election. Popular discontent has risen with a record wealth gap and a doubling in housing prices since 2009, spurring calls for more government action.
"Part of the reason for the activism in the city is the sense that many of the young people feel that the system is unfair, that it is skewed to helping the rich," said David Zweig, professor of political science at the Hong Kong University of Science & Technology. Li "is recognizing that part of the problem in Hong Kong is an economic problem," he said.
One in five residents, or about 1.3 million people, live under the poverty line, according to a government report last September. Hong Kong's Gini coefficient, a measure of income inequality, rose to 0.537 in 2011 from 0.525 a decade earlier, the highest since records were kept in 1971.
'Howl of Rage'
"Trust enables us to live in harmony, without which more and more people will lose faith in this system, breeding skepticism towards what is fair and just, doubting everything and believing all has turned sour and rancid," said Li, who turns 86 next month.
"The howl of rage from polarization and the crippling cost of welfare dependence is a toxic cocktail commingled to stall growth and foster discontent," he said.
Li has spoken out against Occupy Central with Love and Peace, an activist group that's threatening mass sit-ins at the financial district should electoral reforms not meet their demands. Such tactics will paralyze the city, drive away tourists and companies, according to business chambers, brokers and accountants.
The billionaire has also said Hong Kong's people need to stop complaining about Chinese tourists, who help support the city's economy.
School Founder
Li ranks 17th among the world's richest individuals, with a net worth of $32.5 billion, according to the Bloomberg Billionaires Index. Shantou University, founded in 1981 by Li, is the only privately funded public university in China, according to its website. The Li Ka Shing Foundation has donated HK$6 billion ($774 million) to the university, the website says.
"I fear that intensifying resource scarcity will pose challenges of immense proportions to our future," Li said. "We need to act now to turn challenges into opportunities. Technology is no panacea, but we need technological and innovative interventions to increase our options."
Government needs to lead change and inject a "strong dose of liberating elixir" into the education system, he said. The failure to invest in education "is tantamount to a crime against the future," Li said.
Crumbling Trust
"What is most unsettling for me is that trust, the bedrock of an enlightened society, is crumbling before our eyes," Li said. "Without a modicum of trust, society will downward spiral into a painful vicious cycle."
Tension in Hong Kong has increased after the Chinese government issued a white paper on June 10 saying the city's high degree of autonomy isn't an inherent power and its leader must be a patriot.
That's given impetus to organizers of Occupy Central, who urging residents to join an annual protest march on July 1, the anniversary of the city's return to Chinese rule. About 87.8 percent of the voters in the unofficial referendum said Hong Kong lawmakers should reject any proposal that doesn't meet international democracy standards.
"It may not be useful in a legal sense, but it will arouse the attention of the Chinese government," said Ian Auyang, 21, a second-year university student who brought his cousin to vote at a polling station in Causeway Bay on Sunday.
Candidate Vetting
China has said candidates for the 2017 election of Hong Kong's new leader must be vetted by a committee.
The threatened sit-in has drawn opposition from groups including the world's four-biggest accounting companies, foreign commerce chambers and brokers, who say it may lead to an exodus of businesses from the city and hurt the economy.
The Hong Kong Association of Banks is concerned the planned protests could get out of control and have a negative impact on the city's status as a global financial center, the Hong Kong Economic Times reported yesterday, citing association chairman He Guangbei.
Lawyers in the territory on June 27 marched through the central business district in silence, in protest against the policy paper they said jeopardizes judicial independence, the South China Morning Post reported yesterday.
"Today when you rang the bell of truth, what promise did you make to the future? When dawn breaks, is today the tomorrow you worried about yesterday?" Li said in his speech. "Your dedication and undertaking to be the custodian of the future is the best antidote for everyone's insomnia."
Before it's here, it's on the Bloomberg Terminal.
LEARN MORE