El-Sisi Vows Response as Bombs Kill Police Near Palace
Tarek El-Tablawy and Salma El Wardany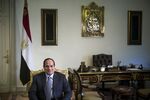 Egyptian leader Abdel-Fattah El-Sisi vowed to avenge three bombings close to the main presidential palace in Cairo that killed two police officers on the first anniversary of protests that preceded Mohamed Mursi's ouster.
The first explosion near the Itihadiya Palace in Cairo's upscale Heliopolis district injured two sanitation workers and a bystander. Authorities searching the area shortly after defused another device while two more exploded as police tackled them. The first killed a police colonel, while a bomb disposal expert died in the last blast, Major Amr Darwish of the civil defense forces said by phone.
It wasn't immediately clear whether El-Sisi who as defense minister spearheaded Mursi's July 3 removal as president, was inside the palace at the time of the attacks. The string of blasts marked the most brazen attack on a government installation since El-Sisi was sworn in as president earlier this month, and came in an area where police maintain a heavy presence.
"I pledge before God, before their families and before their pure souls, a just and swift retribution by the state," El-Sisi said in a televised speech. Earlier, he lashed out against what he called "black terrorism still attempting to cripple the will of Egyptians and their hopes and aspirations -- a cowardly terrorism that has no religion or nation."
Further Attacks
Following Mursi's eviction by the military, the government branded the Muslim Brotherhood a terrorist organization, killing hundreds of the Islamist's supporters and arresting and putting on trial thousands of others, including the former president. Human rights groups have condemned the crackdown as a reversion to the police state that prevailed under Hosni Mubarak, who was ousted in a 2011 mass uprising.
El-Sisi has said there will be no reconciliation with the Brotherhood or others whom officials maintain have blood on their hands.
The retired field marshal, who was appointed defense minister by the man he would later oust, said Egypt still faced a difficult economic and security situation.
"We should all be aware that the responsibility is heavy and challenges are great, but you should also realize that success is not impossible," he said.
Urging Egyptians to put the interests of the nation ahead of their own, he said the challenge was to build a secure nation and a "promising future for us and our sons, with a balance between freedom and responsibility."
Budget Plan
The comments come shortly after El-Sisi approved a new budget, with officials projecting narrowing the deficit to 10 percent of gross domestic product in the next fiscal year, compared to an expected 12 percent in the current one. Achieving that would entail trimming or revising subsidies on which tens of millions of Egyptians depend.
Attacks on state installations and security forces after Mursi's ouster have compounded the country's challenges. While no group has claimed responsibility for today's bombings, Ajnad Misr, which has said it was behind earlier attacks, had warned on web forums used by militants it would target the palace. There was no way to independently verify the statements.
These groups "are sending a message that Egyptian security forces haven't been able to land a knock-out blow to militant Islam and they still have the resources to launch attacks," Anthony Skinner, director for Middle East and North Africa at the U.K.-based consultancy Maplecroft, said by phone. The attacks, he said have a "high symbolic value" because they target civilian areas as well as security forces and therefore have "a larger impact on society."
Before it's here, it's on the Bloomberg Terminal.
LEARN MORE