What Will Become of Baghdad's Billion-Dollar Parliament Complex?
by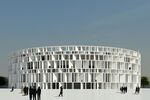 With militant insurgents consolidating their control across much of northern Iraq, plans to build a new $1 billion parliamentary complex in Baghdad, to be designed by mega-starchitect Zaha Hadid, still appear to be moving forward.
The project has been mired in controversy almost from its start. In 2012, the Royal Institute of British Architects, which ran the architecture competition on behalf of the Iraq government, selected a rotunda-shaped design by the London-based firm Assemblage as the winning proposal. Soon after, the country's Council of Representatives handed the commission to the Iraqi-born Hadid, even though her studio placed third in the contest.
Hadid, who was also commissioned to build Iraq's new Central Bank in 2012, signed the final deal last month at the Iraqi embassy in London, according to a report in the British trade publication Building Design. Last week, the secretary general of Iraq's parliament, Ayad Namik Majid, told Architect's Journal that construction would proceed on the 49-acre site despite the threat posed by the extremist group Islamic State in Syria and the Levant, or ISIL.
Hadid was the first woman to win the prestigious Pritzker Prize. She commands big fees for her curvy, computer-based designs, which include BMW's plant in Leipzig, Germany, and the London Aquatics Center, built for the 2012 Summer Olympics. For the Iraqi parliament, Hadid's office, the Architect's Journal reports, slashed its commission by more than a third, from $78 million to $51 million. The price tag is still hefty for a country that, according to Quartz, has halted plans for civic-minded projects such as hospitals in Basra and an oncology center and a library in the capital. The government has yet to release Hadid's plans to the public.
In February, the architect came under fire for shirking accountability in the deaths of hundreds of migrant construction workers building the stadium she designed for the 2022 World Cup in Qatar. Asked whether she was concerned, she said: "Yes, but I'm more concerned about the deaths in Iraq as well, so what do I do about that?"
Before it's here, it's on the Bloomberg Terminal.
LEARN MORE