Bad Blood Good for UFC Plan to Promote Asian Smackdown
Chris Shimamoto and Jason Clenfield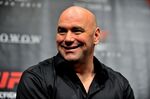 Ultimate Fighting Championship is all for Japan and its neighbors settling their differences -- as long as it's in a cage where it can sell tickets and TV rights.
Dana White, the thick-necked UFC president who's grown rich promoting mixed martial arts, was in Tokyo talking up plans for Asia and previewing a September fight card. In a hyperbole-heavy interview he said bad blood is good for business.
"Korea versus Japan is amazing, China versus Japan is amazing," White, 44, said in an interview last week. "When you go into a market and you have thousands of years of history between people, it's a home run."
In White's UFC, fighters square off in the Octagon, an eight-sided ring enclosed by a chain-linked fence where the object is to punch, kick, slam or choke the opponent into submission. Although hair-pulling and bare fists are no longer allowed, the sport started in the early 1990s with the tagline "there are no rules."
Along with partner Lorenzo Fertitta, White bought the ailing UFC in 2001 for $2 million when it was still on the fringes of U.S. pay-per-view TV. Today, it's broadcast in 149 countries, and is worth at least $3.5 billion, according to White's interview with the Financial Times in March.
White envisions an eight-month series of tournaments pitting fighters from Japan against Korean and Chinese competitors. His approach to Asia borrows from the 1980s professional wrestling promoters who capitalized on nationalism, pitting All-Americans like Hulk Hogan against foreign villains.
Love to Hate
After the Iran hostage crisis, U.S. fans loved to hate the Iron Sheik and his signature "camel clutch" move. Nikolai Volkoff made no friends but drew big crowds waving the Soviet flag in the ring during the Cold War.
Asia has no shortage of fuel for grudge matches. Despite close trade ties, Japan, South Korea and China are snarled in disputes over uninhabited islands and memories from World War II linger. Prime Minister Shinzo Abe in April earned rebukes from Japan's neighbors for an offering to a shrine that honors the nation's fallen, including war criminals.
Fight fans in Asia would probably like to see no holds barred brawl between the countries, according to Hiroshi Yagi, an electrician who was taking a smoke break near Tokyo Station.
"I like fights and I support my own country, but I don't see China or Korea as the enemy," he said. "But I bet people over there would get pumped to see their guys get in the ring with Japan."
Saitama, just north of Tokyo, will host the UFC event on Sept. 5, when Rin Nakai, the first female Japanese fighter to compete in the UFC, will face Miesha Tate of the U.S.
Heavyweight Market
White said he's seeking to air matches in China, a market that could surpass North America. "With the right television deal, China would smoke everything on earth," he said.
Wherever there's conflict, White sees opportunity. He said he's considering a Middle Eastern "Ultimate Fighter" reality show featuring competitors from Israel, Egypt and Saudi Arabia.
"Hercules, Achilles. They all have one thing in common: They were warriors, they were badasses," White said. "We're all human beings and fighting's in our DNA."
Before it's here, it's on the Bloomberg Terminal.
LEARN MORE