Rakuten's Female Executive Strives to Narrow Gender Gap
Shigeru Sato, Monami Yui and Yuki Yamaguchi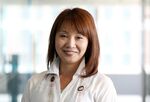 Mie Kurosaka, the first female executive at Japan's biggest online mall operator, returned to work at Rakuten Inc. just three weeks after giving birth in 2002.
Now, as one of Rakuten's four top female executives, the 47-year-old overseeing corporate social responsibility is pushing to have a nursery built inside the company's new Tokyo headquarters to provide better conditions for working mothers, she said in an interview.
Japan's Prime Minister Shinzo Abe will need more executives like Kurosaka to reach his goal of having women account for 30 percent of managers at companies in the country by 2020. Employers should make it easier for mothers to continue working after childbirth, Kurosaka said, recalling her days of juggling early motherhood and work.
"I was riding my bike between work and home to feed my child, who was being taken care of by five different babysitters at different times," Kurosaka said in the interview on June 20. "I was using the office bathroom to pump breast milk into a bottle."
Company executives and policymakers have pointed to the lack of women in the workplace as a factor that's holding back economic growth in Japan, where the population is shrinking. The country was ranked 90 out of 148 in female workplace participation in the World Economic Forum's 2013-2014 Global Competitiveness report.
Acquisitions Frenzy
Before Rakuten, Kurosaka was CEO of Ynot Inc.'s Japanese unit, an electronic greeting-card service she helped sell to Rakuten founder Hiroshi Mikitani in 2002. Mikitani, now a billionaire and Japan's third-wealthiest person, appointed Kurosaka an executive officer in 2003, a year after she joined.
Mikitani was in the midst of a frenzy of acquisitions. Rakuten sealed at least 11 deals in 2002 to buy or invest in Internet firms including Lycos Japan, Bizseek Co. and Medioport Inc., according to data compiled by Bloomberg.
Rakuten's market value surged to 528 billion yen ($5.2 billion) in 2003 from 91 billion yen a year earlier before rising to 1.72 trillion yen as of June 27, the data show.
Women comprise 36 percent of Rakuten's 4,900 employees and about 17 percent of managers, according to the company. Those ratios will increase in the coming years, although Rakuten hasn't set a target, said Kurosaka, whose daughter is now 11-years-old.
Japan's women should take more leadership positions in companies and in the legislature and in fields including law and medicine, according to a report compiled by the Cabinet Office.
Management Meritrocracy
"Whoever fits a management position should get the post," said Kurosaka. "I've never been made to feel aware that I am a woman at Rakuten."
Kurosaka's responsibilities include overseeing Rakuten's e-commerce business class for high-school students. The company started the courses in 2008 as a social responsibility project, she said. The company dispatches employees to more than 20 high schools nationwide to teach teenagers how to start businesses at Rakuten's Internet cybermall.
Groups of high-school students compete in an annual contest hosted by Rakuten every year for the best e-commerce business plan and presentation, she said.
"Knowledge of e-commerce will help teenagers succeed in business because the market will be growing rapidly in the years ahead," she said. "I hope more Japanese entrepreneurs will emerge from the Rakuten classes."
The executive role at Rakuten is demanding, with dinner meetings and appointments filling up almost five nights a week, she said.
One part of parenting she said she still has room for: Waking up at 4 a.m. on work days to ensure she has time to speak with her daughter at breakfast time.
Before it's here, it's on the Bloomberg Terminal.
LEARN MORE