Will the Aereo Ruling Help Fox Ban Dish's DVR?
By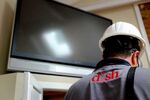 When the Supreme Court decided that Aereo is illegal on Wednesday, critics were quick to say that the ruling would imperil additional innovative technology services. The legal team at 21st Century Fox was only slightly slower. Richard Stone, a lawyer employed by Fox, wrote to a federal judge within hours of the decision to say that the Supreme Court had proved that Dish Network's Internet television offerings are also illegal.
If nothing else, the filing vindicates those who said that the Supreme Court hadn't done a good job of describing what activities its ruling made illegal. The court attempted to write a narrow decision to allay fears that a ruling against Aereo would inadvertently undermine the legality of other cloud computing services. Just days later questions are already surfacing as to which services are on the right side of the line.
In his letter, Stone argues that Dish's practice of allowing viewers to access live television and the contents of their DVRs on Internet-connected devices counts as "unauthorized Internet streaming":
In Aereo, the Supreme Court held that Aereo's unauthorized retransmission of Fox's television programming over the Internet constitutes an unauthorized public performance of Fox's copyrighted works. Dish, which engages in virtually identical conduct when it is steaming Fox's programming to Dish subscribers over the Internet—albeit also in violation of an express contractual prohibition—has repeatedly raised the same defenses as Aero which have now been rejected by the Supreme Court.
At the core of Aereo's conflict with the broadcasters was its refusal to pay the fees that cable and satellite companies pay to retransmit television programming. Dish does pay these fees—the content available through its Internet service is only what it has already paid for. Given that the court specifically wrote that someone who had acquired content legally could move it around without fear of repercussions, Dish thinks that the parallel Fox is drawing is spurious. "Customers pay for the right to receive works, with Fox's authorization, and do receive them at home before sending them to themselves," the company wrote to the Ninth Circuit Court in San Francisco in response to Fox's filing.
Another argument from Dish: Your DVR, the company wrote, counts as a private performance because it consists of a single user sending content from a single DVR. The Supreme Court ruled against Aereo primarily because its streaming business consisted of public performances. Fox has conceded that the technology used by Dish doesn't count as a public performance—and it did so while arguing the Aereo case in front of a federal judge, according to court documents.
Dish has already won a round in this particular court dispute, but Fox thinks that the Aereo decision has changed the equation. The companies will argue their cases on July 7. Should the court will find Fox's new argument compelling, it would prove that the Aereo case will serve as a precedent for the television industry to cut down novel technologies. For now, Fox thinks it has a new tool to wield against those who threaten its current business model.
Before it's here, it's on the Bloomberg Terminal.
LEARN MORE