Southwest Airlines Co-Founder, Pilot Rollin King Dies
Mary Schlangenstein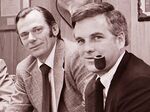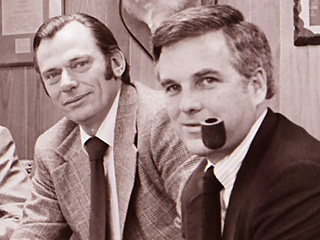 Rollin King, a Texas businessman who joined Herb Kelleher to found Southwest Airlines Co., has died, the carrier said today. He was 83.
King suggested the idea of an intrastate Texas airline to Kelleher, his attorney who would become Southwest's longtime chief executive officer. They famously drew the route plan for Southwest -- a triangle connecting Dallas, Houston and San Antonio -- on a cocktail napkin at a San Antonio bar in 1967.
Southwest, which introduced the concept of no-frills, low fare, point-to-point flights, has grown to become the largest domestic airline in terms of passengers carried. It recently began flights outside of the U.S. to Mexico and the Caribbean.
"I am indeed profoundly saddened to learn of Rollin's passing," Kelleher, 83, said in a statement. "His idea to create a low-cost, low-fare, better service quality airline in Texas subsequently proved to be an empirical role model for not only the U.S as a whole but, ultimately, for all of the world's inhabitants."
Southwest didn't immediately have any additional details of King's death.
King and Kelleher led the airline through a series of legal battles with Braniff, Continental and other airlines, first over Southwest's right to begin service and later over operating at Dallas's Love Field. The struggle culminated with arguments at the U.S. Supreme Court, before the airline began flights in 1971.
Cocktail Napkin
King previously served as executive vice president for operations at the carrier and flew as a Southwest pilot until 1978, according to the Dallas Morning News. He served on Southwest's board from 1967 until May 2006.
In 2007, the Dallas Morning News quoted King as saying the cocktail napkin route plan never happened, but that it was "a hell of a good story." The airline continues to use a depiction of the napkin route map in the corporate history on its website.
"The extended family of Southwest Airlines employees and retirees shares in the loss of Rollin King and honors the legacy of affordable air travel he sparked more than 40 years ago," Southwest CEO Gary Kelly said in a statement.
Rollin White King was born on April 10, 1931, in Cleveland, according to Marquis Who's Who.
In 1955, he earned a B.A.degree from Western Reserve University, what is today Case Western Reserve University, in Cleveland. He received an MBA from Harvard Business School in 1962.
King moved to Texas to become a partner in a new investment counseling firm and in 1964 bought a small air charter firm called Wild Goose Taxi Service, according to a Texas State Historical Association article on Southwest.
The company flew between San Antonio and smaller cities in South Texas and was never profitable, according to the article.
Before it's here, it's on the Bloomberg Terminal.
LEARN MORE