Puerto Rico Sees an Economic Fix in Tourism
by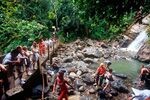 Puerto Rico isn't looking only to wealthy, tax-averse Americans for growth—tourism is also high on the list of ideas for boosting the economy. The U.S. territory wants to boost tourism's share of gross domestic product to 8 percent from 6 percent over the next three years, an increase of $1.2 billion. Parts of the plan include adding more than 5,000 new hotel rooms by 2017, luring new flights, and developing two new ports for cruise lines to visit.
"If you want quick impact to the economy, tourism is where it's at," said Ingrid Rivera, executive director of Puerto Rico Tourism, the island's official tourist agency. "We are small but we are potent."
The U.S. territory of 3.7 million people has struggled with meager economic growth and an unemployment rate of about 14 percent, higher than in any U.S. state. Puerto Rico is burdened by more than $70 billion in debt and its credit ratings are at junk level. In the travel industry, Puerto Rico's all-inclusive resorts also labor under the reputation of being more expensive than those at some other destinations, particularly the Dominican Republic, which has seen explosive growth in that part of the industry. Currently, about 90 percent of tourists are from the U.S. Northeast and the many cities there with large Puerto Rican communities.
Puerto Rican tourism officials aim to capitalize on its abundance of tropical allures: warm weather, gorgeous beaches, and diverse geography, including El Yunque National Forest, the only tropical rain forest in a U.S. park. Several luxury hotels, including a new Four Seasons property near Fajardo on the east coast, are also being developed. High-end hotels also typically employ more people.
To get more visitors, Puerto Rico needs more airline service, Rivera said, and has set a goal of 10 million annual passengers, up from 8.4 million today. The island has twice-weekly flights from Madrid and a weekly flight from Frankfurt, as well as several weekly flights from Panama and Colombia. But there's no direct service from Mexico or the United Kingdom, two places Rivera said would send large numbers of travelers to Puerto Rico. JetBlue Airways is slowly building a new regional operation from San Juan, hoping to mine some of the profitable Caribbean routes American Eagle flew before American Airlines dismantled its hub there. In recent years, American carried almost one-third of traffic at San Juan.
Puerto Rico is also working to rebuild annual cruise ship visitors back to 1.5 million. That figure plunged by nearly one-third after the 2008 financial crisis damaged the tourism industry worldwide. Rivera said Ponce, on the southern shore, and Mayaguez, on the west coast, both plan to develop infrastructure to support large cruise ship calls. "The attractions are there," Rivera said on Thursday during a visit to Bloomberg's New York headquarters.
The top opportunity for attracting new visitors, however, isn't among adventure-minded British and German backpackers, or big-spending Brazilian shoppers. It's in the U.S., farther west, Rivera said, counting the places with large groups of people unfamiliar with Puerto Rico: Chicago, Houston, Dallas, California, and myriad other locales. "You don't need a passport," she said.
Before it's here, it's on the Bloomberg Terminal.
LEARN MORE