Nigeria Militant Camps Raided After Abuja Bombing Killed 21
Elisha Bala-Gbogbo and Daniel Magnowski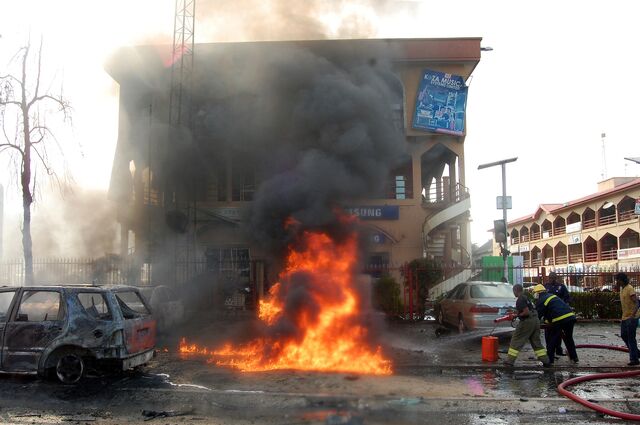 Nigeria's Ministry of Defence said more than 100 Islamist militants were killed in raids on two camps following a bomb attack that claimed the lives of 21 people at a shopping center in Abuja, the capital.
Security forces raided a camp near the Niger border and another in the northeastern state of Borno, killing 50 militants in each location, the ministry said in an e-mailed statement late yesterday. Two members of the Multinational Joint Task Force, which includes troops from Nigeria and neighboring Niger and Chad, were killed, it said.
The June 25 blast in Abuja injured 52 people, the National Emergency Management Agency said. It was the third bombing this year in the capital of Africa's biggest oil producer. While no group has claimed responsibility, the Islamist group Boko Haram killed at least 75 people in an explosion in an Abuja suburb on April 14. The same day the militants kidnapped more than 200 schoolgirls in Borno state.
"The recent attacks, together with the kidnapping of over 200 schoolgirls, have raised Boko Haram for ordinary Nigerians from a distant, contained threat to something more tangible, politically relevant and potentially threatening," Philippe de Pontet, Africa director at New York-based Eurasia Group, said in e-mailed comments yesterday.
Suspect Shot
The Ministry of Defence said yesterday that more explosives were found in a bag dropped by one of the attackers, who was shot dead while fleeing. The bombing occurred in Abuja's Wuse 2 district, popular with wealthy Nigerians and foreigners.
A week before the bombing, government spokesman Mike Omeri said intelligence reports indicated militants planned to hijack gasoline trucks and use them to carry improvised explosives to the capital.
Boko Haram, which means "western education is a sin" in the Hausa language, has focused its five-year insurgency on the north and the capital, hundreds of miles from the coastal oil and gas fields and the southern commercial capital, Lagos. Nigeria attracted a record $21.3 billion in foreign direct investment last year, according to the national statistics agency.
The militants drew international outrage when they kidnapped the schoolgirls from the town of Chibok in Borno state. Most of the girls are still missing, and countries including the U.S. and U.K. are aiding the search and rescue effort.
Election Campaign
Nigeria, a country of 170 million people with Africa's biggest economy, is roughly divided between a mainly Muslim north and predominately Christian south.
President Goodluck Jonathan has said Boko Haram is part of al-Qaeda and poses a threat to countries throughout the region. Jonathan cut short his visit to Equatorial Guinea for an African Union meeting to return to Abuja yesterday, his spokesman Reuben Abati said in a text message.
His administration has enforced emergency rule in Borno, Yobe and Adamawa, the three states where Boko Haram is most active, since May 2013.
Jonathan hasn't said if he will seek re-election in February.
"The Jonathan administration will scale up security spending to counter Boko Haram, and spread military patronage," said Eurasia's de Pontet. "National security is now the dominant campaign issue, with corruption and power now secondary matters."
Before it's here, it's on the Bloomberg Terminal.
LEARN MORE