business
Mt. Gox Chief Executive: Bitcoin Heist Wasn't Just Hacking
By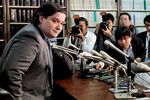 When Mt. Gox lost almost $400 million of its customers' digital currency in February, it seemed to be a complete failure of the company's digital security. But in an interview with the Wall Street Journal, the now-defunct exchange's chief executive said that old-fashioned physical security was a problem, too.
"We had some cases where a stranger sneaked in and took things away. We also have at least one former employee stealing the company's data," Mark Karpelès told the newspaper in his first public comments since Mt. Gox declared bankruptcy following the attacks. "I can't disclose much due to the police investigation, but there were also physical attacks."
Karpelès said he was overwhelmed as Mt. Gox expanded and tried to hire people to help out, but failed to do so. He apologized to the exchange's customers who lost money in its collapse. While there have been rumors that Karpelès had enriched himself at his customers' expense, he denied such claims and said he wants to explain himself further to the Bitcoin community in Tokyo, where he lives.
"I did what I could, and I swear I haven't been doing anything too luxurious. Some people say I still own bitcoins or have a yacht, but that's not true. If they accept me, I would like to attend a weekly meet-up of Tokyo bitcoin users when things settle down and explain what happened in my own words," he said.
There is an effort under way to rehabilitate the exchange as part of a dispute in U.S. federal court, but Karpelès said he's worried the idea will be a bad deal for Mt. Gox's customers, who have probably suffered through enough in recent months.
Before it's here, it's on the Bloomberg Terminal.
LEARN MORE