Loose Engine Bolts on Embraer Jets Spur Airlines to Check
Mary Schlangenstein and Christiana Sciaudone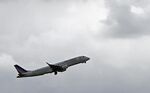 American Airlines Group Inc. and other carriers inspected engine pylon bolts on Embraer SA E190 aircraft after the Brazilian planemaker recommended the checks.
American found that the engine bolts "were loosened to some degree" on 12 of its 20 E190 aircraft, Paul Flaningan, a spokesman, said in an e-mail today. The planes all were inspected and repaired yesterday and put back into service, he said.
Embraer confirmed that it issued an "alert service bulletin" to commercial operators of the twin-engine E190 recommending inspection of two engine pylons' shear pins as a "preventive measure." The bulletin "is a routine procedure within the aviation industry," the Sao Jose dos Campos, Brazil-based company said in an e-mailed statement today.
Virgin Australia found faults with the bolts on nine of its 17 E190s, the Australian Financial Review reported. The problem was fixed and the planes returned to service, the Review said, citing a company spokesman.
Germany's Lufthansa is trying to determine if any of its nine E190s are affected by the service bulletin, said Nils Haupt, a spokesman. The airline's E190s and 34 E195s are flown by its CityLine unit. None of the planes has been grounded, he said.
JetBlue Airways Corp., the largest North American operator of E190s with 60, said the Embraer advisory concerns only six of its planes. Inspections are expected to be completed within a day, said Morgan Johnston, a spokesman for the New York-based airline. Azul Linhas Aereas Brasileiras SA, the Brazilian airline created by JetBlue founder David Neeleman, said in an e-mail that 10 of its E-Jets were going through a technical inspection today and tomorrow and operations were unaffected.
Grupo Aeromexico SAB said in a statement that none of its 22 E190s is affected. Embraer's service bulletin doesn't apply to Air Canada, which has 45 of the aircraft, because the planes have a "different configuration," Peter Fitzpatrick, a spokesman for the Montreal-based carrier, said in an e-mail.
India's Air Costa checked its E190s and found no problems, said Pramod Mitta, a spokesman.
The E190 can carry 98 to 114 passengers.
Before it's here, it's on the Bloomberg Terminal.
LEARN MORE