Germany Cancels Verizon Contract in NSA Spying Fallout
By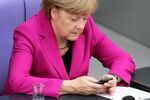 The other shoe dropped for Verizon Communications in Germany yesterday. The country's Federal Ministry of the Interior announced it will end a government contract with Verizon, citing the cooperation of American companies in U.S. government surveillance.
It's the latest business nightmare to emerge from Edward Snowden's revelations about the National Security Agency's massive spying operations. Germany was particularly shocked by reports last year that the U.S. tapped Chancellor Angela Merkel's phone. And Verizon featured in one of the earliest Snowden leaks, which showed a court order requiring the company to provide data on millions of customers to the NSA.
Forrester Research estimated last September that the NSA disclosures could lower U.S. technology sales overseas by as much as $180 billion by 2016.
The German government is now requiring telecommunications providers to sign new contracts confirming they're not legally obliged to share information with foreign governments, Interior Ministry spokesman Johannes Dimroth told Bloomberg News.
Verizon contends that that's exactly the case—it can't be compelled to turn over data on customers stored outside the U.S.
Verizon laid out its position in a blog post earlier this year that the privacy of its overseas customers is not an issue: "Whatever interpretations others may apply to U.S. law, we want our position on the matter to be clear: there should be no concern about the U.S. government compelling Verizon to disclose data our customers store in Verizon data centers outside the U.S."
"Verizon Germany is a German company, and we comply with German law," Detlef Eppig, managing director of Verizon Germany, said in an e-mailed statement.
The German government, for one, wasn't convinced.
Before it's here, it's on the Bloomberg Terminal.
LEARN MORE