Cameron Says Juncker Wrong for EU as Appointment Imminent
Jonathan Stearns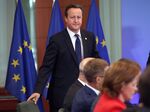 U.K. Prime Minister David Cameron sharpened his attacks on Jean-Claude Juncker as unsuitable to run the European Commission, mounting a final push to convince fellow leaders in Europe to halt the former Luxembourg premier's appointment.
"It's the wrong person," Cameron told reporters in Brussels today before the second part of a European Union summit. "Jean-Claude Juncker has been at the heart of the project to increase the power of Brussels and reduce the power of nation states for his entire working life. He's not the right person to take this organization forward."
The 28-nation EU's leaders are scheduled to discuss over lunch their pick to run the commission, which proposes and enforces bloc-wide laws and monitors the single market. With traditional British allies from Germany to Sweden opting to back the Luxembourger, Cameron faced calls by fellow government heads to help steer a Juncker-led commission to deregulatory policies and the U.K. to smoother ties with the EU.
"It's very important that the program that Juncker puts forward is very market-oriented," Finnish Prime Minister Alexander Stubb said. "In the U.K., some people need to very seriously wake up and smell the coffee; the European Union is a very good thing for the United Kingdom."
Cameron has promised to renegotiate Britain's relationship with the EU before an in-or-out referendum if he wins a national election next year. His Conservative Party placed third in balloting last month for the EU Parliament, behind the U.K. Independence Party and the main opposition Labour Party.
EU Skeptics
Cameron's rejection of Juncker, regardless of the outcome of today's meeting, has played well with EU skeptics in his Conservative Party who have warned him that he will continue to lose votes to the U.K. Independence Party if he doesn't step up his opposition to the bloc.
Cameron said any failure to rally sufficient support for his stance against Juncker, who ran Luxembourg for almost 19 years and played a key role in handling the euro debt crisis, was less important than the principle of opposing the choice.
"I know the odds are against me," Cameron said. "But it doesn't mean you change your mind."
Cameron's campaign against Juncker has been accompanied for weeks by U.K. news reports critical of the Luxembourger. British newspapers including the Daily Telegraph today ran front page reports citing an unnamed "European diplomat" as saying that EU leaders had discussed concerns about Juncker's "drinking habits."
A press official at Juncker's office in Brussels declined to comment on the reports when reached today by phone.
The British attacks on Juncker have prompted EU backers of him to say extra efforts will have to be made to win back trust of Europe in London.
"We need to build some bridges," Stubb said.
Before it's here, it's on the Bloomberg Terminal.
LEARN MORE