Weekend Getaway Showdown: Battle of the British Isles
by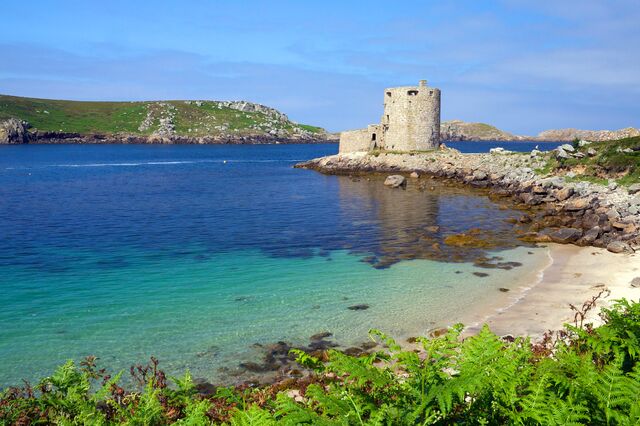 Great Britain is technically an island, but London residents might jones for a more exotic version of island life every once in a while.
For that, the surprisingly remote Isles of Scilly off the south-westernmost tip of Cornwall should do the trick. Of the archipelago's five inhabited islands only one allows cars -- residents make do with golf carts, bikes, and horses instead.
If that's a little too rustic there's Jersey, in the Channel Islands. It's easily accessible (a one hour, straight-shot by plane), but it's large enough that you can still get a taste of isolation on its windswept dunes. So, in the spirit of unfriendly competition (tourist dollars count!), we matched them up in our Weekend Getaway Showdown. Where should you go for a long weekend away from London? Here are our results.
Flight Time from London
Isle of Jersey: 1 hour.
Isles of Scilly: 1 hour, 10 minutes to get to Newquay Airport, 30 minutes to get to the island via Skybus. Figure two hours even.
Winner: Jersey, by a solid hour (and no transfers).
Airport Car Rentals
Jersey: Budget, Europcar, Hertz.
Isles of Scilly: No car needed. There are taxis for hire on the island of St. Mary, or you can rent a bike.
Winner: Jersey, but this feels like a forfeit.
Hotel:
Isle of Jersey: The Longueville Manor Hotel isn't on the beach -- instead you'll have to settle for 16 acres of lush manicured gardens in a valley just outside of St. Helier, the largest town on the island. The hotel restaurant is a destination in itself -- the menu changes daily based on available local ingredients, along with an excellent, extensive wine list. In addition, there are tennis courts, a croquet field, and a pool. The hotel itself is decidedly luxe -- it's in a mansion that goes back to at least the 16th century.
Isles of Scilly: Now, any location that has the word "hell" in it might raise a few red flags, but Hell Bay Hotel, located on the island of Bryher, should be an exception. The hotel itself is small -- just 25 suites -- but it has a spa, pool, tennis courts, bar, and restaurant. Remember though, this is pretty isolated, so if you're hoping for any semblance of nightlife you might want to look elsewhere.
Winner: Isles of Scilly. Sacrificing a little bit of luxury for wraparound ocean views is worth it.
Activities
Isle of Jersey: With close to 100,000 full-time residents, there's no lack of amenities and activities. There's windsurfing, a golf course, bicycle rentals, spas, boat charters, and seemingly endless hiking trails. There's also a range of nightlife options, most of which are located in St. Helier: the restaurant La Cala turns into a packed nightclub on summer weekends, or for something more sedate there's outside bar/ restaurant of the Royal Yacht Hotel, which fronts the old harbor.
Isles of Scilly: You've got an archipelago to explore, and that alone could take up most of your time. Alternatively, the hotel can organize kayaking, snorkeling, and jet boat rides. There are also fishing trips and boat charters you can take around the islands. And then there's an 18-hole golf course on St. Mary's that's open to everyone.
Winner: Isle of Jersey
Beaches/Swimming
Isle of Jersey: It's a huge island, with a range of choices -- rocky, sandy, cliff-side, etc. That said, there aren't so many off-the-beaten-path options. If it's a great location, chances are you won't be the only person enjoying it.
Isles of Scilly: You're on a tiny island that fronts the Atlantic Ocean -- you've got nothing but beaches. The island's so small that you're in walking distance of a range of options, some of which will invariably be deserted.
Winner: Isles of Scilly
Restaurants
Isle of Jersey: Simply put, Jersey has fantastic food. Leaving aside the Longueville Manor restaurant, there are four Michelin-starred restaurants, along with a wealth of ocean-side cafes like Suma's, on Gorey harbor, and the Navigator, on Rozel harbour.
Isles of Scilly: The good news is that almost everywhere (anywhere) you eat has amazing views. The bad news is that this is a small island network, so don't expect anything too exotic. The Hell Bay Hotel's restaurant serves three meals a day, and then there are charming, seaside options on every island. Most of the menus lean heavily towards seafood -- but it's hard to complain about an overabundance of fresh-caught fish.
Winner: Isle of Jersey
And that means the winner is the Isle of Jersey -- its sheer number of amenities and proximity to London proved unbeatable. But Scilly's isolation might just be its biggest asset -- after all, you're on an island already; the trick is to go somewhere different.
Before it's here, it's on the Bloomberg Terminal.
LEARN MORE