Under-the-Radar Market Leaders Aim for the U.S.
Tech companies from Spain to Japan aim for U.S. markets
By
Some foreign technology companies are running far ahead of their competitors and are aiming to replicate their international success in the U.S.

Scytl, electronic voting
Barcelona-based Scytl makes software that anonymously counts election ballots cast online for national, state, and local contests in 35 countries. In April, Paul Allen's Vulcan Capital invested $40 million in the company.

Xero, cloud accounting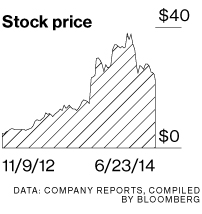 Down Under, this Wellington-based Intuit rival dominates the small-business market for cloud-based accounting software. Backed by PayPal and Palantir Technologies co-founder Peter Thiel, Xero is used in H&R Block's software packages for small businesses in the U.S.

Just Eat, food delivery
If you're hungry and lazy in Western Europe, you'll likely order takeout online using Just Eat. The London-based company, which claims about 6 million active accounts, leads most of the 13 national markets it serves.

Atlassian, programming tools
Sydney-based Atlassian, a leader in bug-tracking and project-management software, counts Twitter, NASA's Mars Curiosity rover team, and 80 of the Fortune 100 among its 35,000 customers.

Unity, games
Behind most big-name video games is what's known as an engine—a suite of prewritten code that keeps developers from having to start from scratch. Denmark's Unity makes the preeminent engine for mobile games, with code that can be easily ported from iOS to Android or vice versa.

Largan Precision, optics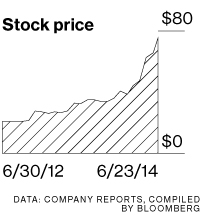 Most high-end camera lenses found in iPhones and other mobile devices come from Taiwan's Largan Precision. Its share price has more than doubled in the last year; sales grew 42 percent in 2013 and 35 percent in the previous year.

Farfetch, e-commerce
According to backer Index Ventures, London's Farfetch is the biggest online marketplace for indie boutiques. The site carries about 120,000 items sold by more than 300 designers.

Adyen, mobile payments
The Dutch company processed payments valued at about $14 billion last year for 3,500 businesses, including Groupon and Vodafone.

Line, social network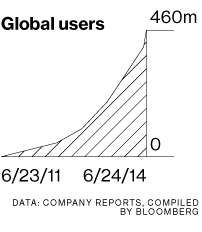 Japan's top mobile messaging app adds more than 700,000 users a day. Sales of novelties such as digital stickers, which look like oversize emoticons, have helped make Line the top-grossing message app in Thailand, Indonesia, and Taiwan.

MercadoLibre, online auctions
Sales grew 26 percent last year at Buenos Aires-based MercadoLibre, often referred to as the EBay of Latin America. (EBay owns some 18 percent of the Nasdaq-traded company.) Half its sales come from Argentina and Venezuela.
Before it's here, it's on the Bloomberg Terminal.
LEARN MORE