The New Curriculum: Reading, Writing, and 3D Printing
By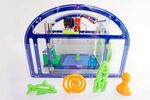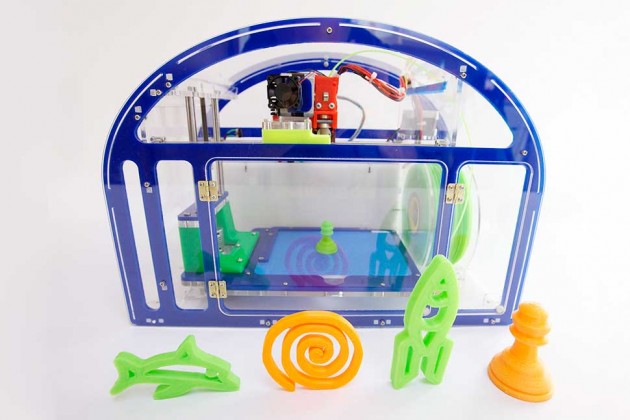 If the popularity of Rainbow Loom has taught entrepreneurs anything, it's that kids love creating things using bright plastic. Now another company is hoping to cash in on that predilection with a 3D printer meant specifically for children.
Printeer is a 3D printer designed for 8-year-olds. Using a drawing app for the iPad, children can finger-paint a design and see how it will look in 3D form. Once they're satisfied with the way it looks, they can send a print command over Wi-Fi. Printeer then swings into action, laying down layer after layer of plastic strands. Kids can see everything—including the brightly colored gears turning—because the printer's guts are enclosed in a clear plastic shell.
Mission Street Manufacturing, the California-based startup that developed Printeer, is marketing the device as an educational tool. The company priced its creation at $549 on the crowdfunding site Kickstarter hoping that public and private schools will shell out for the device to introduce 3D printing to young kids.
Product developer Brian Jaffe is the first to admit that Printeer is not for everyone. With some 3D printers costing as little as $200, many consumers will opt for more wallet-friendly devices, such as MakiBox or Printrbot, which are capable of more sophisticated designs.
"If you look at what we are creating as a 3D printer, it begs the question: 'You're not the cheapest guy out there, what gives?'" Jaffe says. Yet he believes Printeer will succeed because it is specifically aimed at children. "This is a creative tool that teachers can use in all sorts of different directions," he says. "We are not targeting to the nameless masses of everybody, but to a very specific group, which is children."


Jaffe adds that Printeer is also easier to use than other printers. With options such as MakiBot, consumers must assemble the 3D printer and set up their own software to start designing products to print. Printeer is preassembled and comes with its own companion app. "You don't ever have to leave the printer ecosystem," Jaffe says.
With 14 days left on its Kickstarter campaign, the startup had raised $104,429 as of Wednesday afternoon, far exceeding its $50,000 goal.
Rea Xenja, a mathematics teacher at Southwest Middle School, a public school in Orlando, says she wanted a hands-on interactive lesson for her class when she began looking into 3D printing. She was attracted by Printeer's low cost and educational value, leading her to bring the product to her department chair's attention.
For her Printeer lesson, Xenja says she would have her class break into groups and have them create different parts for an object. The groups would be isolated from each other so they could not see how the others were designing their specific part. The lesson would teach students the importance of using accurate measurements. "I think that our issue with teaching math is to show that math is useful," Xenja says.
Xenja does not foresee cost being an obstacle, because one Printeer, which an entire class could utilize, is priced lower than an iPad, a device that's difficult to share. Southwest Middle School has 50 iPads for student use, and each teacher has his or her own tablet as well, providing them with access to Printeer's app component.
La Cumbre Junior High School is interested in buying Printeer for its seventh-graders to use. Ray Jimenez, a computers and keyboarding teacher at La Cumbre, says Mission Street Manufacturing demonstrated Printeer a couple of weeks ago and received a positive reaction from seventh-grade students. "It gives them a different perspective on how things are made and how they can make them," he says.
Jaffe admits that most schools the startup interacts with are on a tight budget and may not have money to cover the cost of Printeer, but he says it's a reasonable amount to fundraise. "It's a price that a principal can go to the PTA and say he wants to bring 3D printing to the school and ask them to come up with $550," he says.
Printeer uses polylactic acid (PLA), a biodegradable plastic that does not give off fumes when heated, to print the toys. Like fishing line, PLA comes wound in thick spools, except it's available in a variety of colors. Mission Street plans to sell replacement spools for about $22 a pop.
If Printeer becomes a runaway hit like the Rainbow Loom, its makers also will be hoping that children's interest in fashioning trinkets from plastic does not melt with time.
Before it's here, it's on the Bloomberg Terminal.
LEARN MORE