A Bull Market Where the Exuberance Has Gone Missing
The stock market has almost tripled in five years, but there's no dancing in the street
by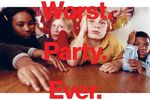 There's calm. There's dead. And then there's the current U.S. stock market, which keeps inching up to one record high after another with remarkably little fanfare. For 10 trading days in June, the Standard & Poor's 500-stock index shifted less than one-quarter of a percentage point, and it's been 47 days since the gauge moved more than 1 percent in a single session. The last time the market saw such an uninterrupted stretch of calm, Microsoft released Windows 95 and O.J. Simpson was found not guilty of a double murder.
The S&P has returned 190 percent since bottoming out in March 2009. At 1,934 days, the rally is the fourth-longest bull market—a period with at least a 20 percent gain and no 20 percent declines—on record. As they say on Wall Street, the resurgence is untrusted, unloved, and certainly no cause for celebration. Trading volume continues to dwindle, part of a years-long decline, and the VIX index, a measure of expected volatility, is near the lowest levels ever recorded. Investors pulled money out of U.S. equity funds for an eighth consecutive week, the Investment Company Institute reported on June 25, plowing $20 billion into the perceived safety of bonds. A host of concerns—Is this another bubble? Will the Federal Reserve raise rates? Is inflation a threat? Are valuations too high?—is canceling out any elation over the almost $10 trillion added to the market value of S&P 500 companies since 2008.
Howard Silverblatt, the senior index analyst for S&P Dow Jones Indices and Wall Street's unofficial chief statistician, remembers when the benchmark hit 1,000 in 1998. "I was out partying, celebrating in the street," he says. Today, with the gauge nearing 2,000, thanks to a 13 percent return since Feb. 3, there is no sign of euphoria. "Normally, you should be singing about that," he says. "You should be having a dartboard contest," where traders try to predict the date the market crosses the next milestone. Has Silverblatt ever seen a bull market this dull? "No rally is boring," he says. "But no, I have not."
"It's an ugly duckling market—people are looking at all the most unfortunate aspects of it," says John Manley, the chief equity strategist at Wells Fargo Funds Management. "We made money in the stock market as the world went from being terrible to bad, and then bad to OK, which is where we are now," he adds. "There's no appreciation for the fact that things can actually go from OK to good—that the economy can improve, that inflation can remain low, and the Fed will remain supportive."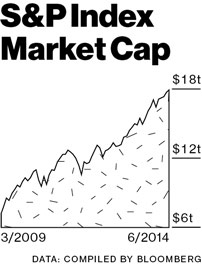 The S&P has closed at a record high 22 times in 2014. Investors are still trying to reconcile the soaring stock market with the iffy health of the overall economy, says Lawrence Creatura, a portfolio manager at Federated Investors—even as more data point to a strengthening recovery. "Investors are looking for reasons why the stock market should go down, rather than acknowledging reasons why it has gone up," he says. "It's an unnaturally fearsome time for having not only the market go up but also the data look reasonably good and interest rates close to historic lows. Those types of things aren't generally associated with pessimism."
The influence of the Fed continues to divide Wall Street, with the central bank keeping rates near zero and gradually reducing its monthly bond purchases. Those actions are meant to encourage investors to seek higher returns by shifting their money out of cash and into riskier assets such as stocks; no one can say for certain what will happen when the stimulus policies end and rates inevitably go up.
"A lot of people are certainly skeptical of how the market is run—whether it's built on fundamentals or whether it's built on central bank intervention," says Joe Saluzzi, co-head of equity trading at Themis Trading. "People just don't trust it. There's been a lot of people who missed the rally, so they don't want to be playing the top."
Investors get their next chance to evaluate companies' fundamentals on July 8, when another earnings season begins. Traders will be watching for lingering effects from an abnormally cold winter that impaired commerce. The average price-earnings ratio of S&P 500 companies, the most common measure of whether stocks are "cheap" or "expensive," has risen 5 percent this year, but at 18 is still below the 30 level of the 1999-2000 Internet bubble, and it's in line with historical averages.
"Classically, the market climbs a wall of worry," says Michael Purves, chief global strategist at Weeden & Co., noting the Wall Street adage that in a climate of nonspecific concern, stocks tend to advance. "Now we're having a wall of hatred. The more that people hate this rally and come up with excuses not to play, the more the rally becomes a reality."
Paul Taylor, chief investment officer at Bank of Montreal Global Asset Management, is among those who cite investor misgivings as a signal that stocks will continue to climb. "At both the institutional and especially the retail level, there are doubts about the longevity of the rally from here—'The easy money's been made,' " Taylor says. "It is still a reluctant market rally, and that's a bullish sign for us."
Before it's here, it's on the Bloomberg Terminal.
LEARN MORE