Standard Chartered Says First-Half Profit to Drop 20%
Richard Partington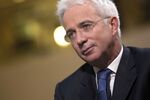 Standard Chartered Plc dropped the most in almost seven months in London trading after the U.K. bank said first-half operating profit probably fell by 20 percent, dragged down by lower financial-markets revenue.
The bank declined 4.3 percent to 1,203 pence, marking the biggest decline since December. Bad loans increased and its financial-markets division, which houses its fixed-income, currencies and commodities trading desks, is the "main challenge" to income, the lender said in a statement today.
Standard Chartered, which generates more than three-quarters of its earnings in Asia, said clients have moved away from trading interest-rate and foreign-exchange products amid low volatility and that Lenny Feder, group head of financial markets, will step down. Increased revenue in China and Africa was offset by "weaker performance" in India, Korea and Singapore, it said.
"This has been a disappointing first half," Chief Executive Officer Peter Sands, 52, said in the statement. "As we navigate this difficult period, we remain focused on the drivers of value creation for our shareholders."
Full-year profit, excluding goodwill impairment and swings in the value of the bank's own debt, will be lower than 2013, the London-based company said, without giving specific numbers.
Sandy Chen, an analyst at Cenkos Securities Ltd., said an "outlook that is a lot less chirpy than what we've usually gotten from management" is a concern. Chen is placing Cenkos's buy rating on the bank's stock on review, he said.
Step Down
Feder will be replaced by Mark Dowie, group head of corporate finance, until a permanent successor is found. Sands told reporters on a conference call that Feder is taking a 12-month sabbatical for "family reasons."
Feder is co-chairman of the Singapore Foreign Exchange Market Committee, the group that set industry standards and a code of conduct for currency traders in the city state, and whose members include the de facto central bank, the nation's sovereign-wealth fund and banks operating in Singapore.
During his tenure, the Monetary Authority of Singapore censured banks for trying to rig interest rates and currency benchmarks, ordering them in June 2013 to set aside as much as S$12 billion ($9.6 billion) at zero interest pending steps to improve internal controls.
First Countries
Singapore will be among the first countries to start using trading data rather than the survey of estimates in calculating benchmark rates, the Association of Banks in Singapore and the Singapore Foreign Exchange Market Committee said in June 2013.
The bank is reviewing some units to focus on its most profitable business as emerging-market economic growth slows. It sold its South Korean savings bank and consumer-finance capital units to J Trust Co. for about $148 million this month.
Standard Chartered last year suspended a target to increase revenue by at least 10 percent after writing down its Korean business by $1 billion, helping to end more than a decade of earnings growth. The country "remains a challenge," Sands said.
Standard Chartered in January said it would merge its consumer and corporate-banking business to cut costs as Mike Rees, the head of corporate banking, was named deputy CEO and Finance Director Richard Meddings said he planned to leave. In May, the bank hired former Vodafone Group Plc Chief Financial Officer Andrew Halford to replace Meddings.
Before it's here, it's on the Bloomberg Terminal.
LEARN MORE