Singapore's Gamblers Get a New Bank
The city's new casinos are fueling the growth of local pawnbrokers
By and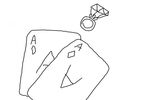 Yeah Lee Ching recalls when a woman walked into her pawnshop in Singapore and pledged a $10,000 diamond-studded gold Rolex watch to bankroll casino spending. She never came back for her jewelry. Such customers are becoming more common as pawnbrokers proliferate across Singapore to serve gamblers seeking short-term loans and to satisfy demand for quick cash from people struggling to make ends meet in the world's most expensive place to live. The number of pawnshops in the city-state jumped to 214 this year from 114 in 2008, according to DMG & Partners Securities. Loans disbursed by the industry jumped to S$5.5 billion ($4.4 billion) in 2013 from S$1.6 billion in 2007.
"Pawnshops are the most frequent automated teller machines for regular gamblers," says Ivan Ho, president of the Singapore Pawnbrokers' Association. "They need capital, and pawnshops offer them loans that are reasonably priced."
Singapore's two casinos opened in 2010, and about 20 percent of the increase in pawnbroking activity is driven by clients raising money for gambling, says Ho, who owns the Heng Seng Pawnshop. The rest comes from business owners and low-income individuals in need of money to pay hospital bills and other unexpected costs.
"I pawn my jewelry when the need arises," says Vikki, a businessman who runs a security agency and asked to be identified only by his first name. "The biggest loan I got was S$70,000 to cover salaries of my staff when payments from customers got delayed."
ValueMax Group, Maxi-Cash Financial Services, and MoneyMax Financial Services dominate the local industry, owning almost 40 percent of all pawnshops in Singapore, according to DMG. The three raised a combined S$103 million from initial public offerings in the past two years. Their combined revenue will increase 8.7 percent, to S$577.7 million, in 2014 from the previous year, the brokerage estimates. For MoneyMax, which forecasts revenue will climb 52 percent, to S$100 million, in two years, the opening of the casinos created a market opportunity. "In Macau, you see casinos and pawnshops," says MoneyMax Chairman Peter Lim Yong Guan. "That gave us an idea." Yet Lim says most of his customers are people seeking money for living costs.
The republic topped Paris, Oslo, Zurich, and Sydney in the Economist Intelligence Unit's worldwide cost-of-living survey released in March. The gap between the richest and the poorest Singaporeans rose in 2012 to its widest since 2007 before narrowing last year, according to government data. Pawnbrokers also got a boost as surging gold prices increased the amount of collateral borrowers could access.
"Sometimes we hear customers saying, 'Maybe we'll get lucky this time,' " says Henry Kiew, who works at the ValueMax in Little India, near Las Vegas Sands' Marina Bay Sands casino. "Then we know they'll go to try and win back losses."
Pawnbrokers aren't alone in courting Singapore's cash-pinched. Unlicensed lenders at casinos, known as mataos, lend to gamblers using valuables as collateral, says Ho. The client gets 50 percent to 60 percent of the value of their jewelry, lower than the 80 percent to 90 percent rate offered at pawnshops. If the customer doesn't pay in three days, the matao takes the valuables to a licensed pawnshop—recovering his money—and passes on the pawn ticket to the original borrower, says Ho. He adds that pawnbrokers don't know the identities of the unlicensed mataos.
Before it's here, it's on the Bloomberg Terminal.
LEARN MORE