Mitsubishi Heavy Affirms Energy Push After Alstom Bid Rejected
Masumi Suga and Kiyotaka Matsuda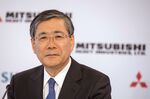 Mitsubishi Heavy Industries Ltd., the equipment maker stymied in its joint bid for Alstom SA's power business, said energy will remain the focus of its expansion efforts.
"Steps to grow our energy and environment operations weren't reliant" on the Alstom deal, Chief Executive Officer Shunichi Miyanaga told shareholders in Tokyo today at the company's annual meeting, indicating that an existing energy venture with Hitachi Ltd. could form a hub for growth.
"We intend to further accelerate Mitsubishi Hitachi Power Systems' potential," he said.
Mitsubishi Heavy's bid with Siemens AG for the energy business held by France's Alstom was thwarted when the French government backed a competing offer from General Electric Co.
Tokyo-based Mitsubishi Heavy, which makes everything from cruise ships to rockets, regrets the failure of its Alstom bid, said Miyanaga, who last week appeared before France's National Assembly in an attempt to sell the deal to lawmakers.
Building gas turbines and pumps for thermal, nuclear and geothermal power plants already delivers more than a third of revenues at Mitsubishi, the one-time maker of the Japanese navy's Zero fighter plane deployed during the Second World War. It's also the company's biggest contributor to operating profit.
Earlier this year, Mitsubishi Heavy began operating a venture with Hitachi Ltd. that combined their energy-equipment businesses.
Mitsubishi Heavy supplies some of the turbines used by Iceland to tap that nation's underground sources of renewable energy. It signed a memorandum of understanding in 2010 with Reykjavik Energy, an Icelandic geothermal power utility, to cooperate on the global development of geothermal energy.
In September, Mitsubishi Heavy agreed to form a venture with Vestas Wind Systems A/S to develop offshore wind power plants.
Before it's here, it's on the Bloomberg Terminal.
LEARN MORE