Lukoil to Build $30 Billion Cash Pot After Debt Freeze
Stephen Bierman and Elena Mazneva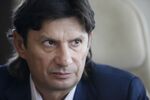 At Russia's largest private-sector oil company, the Ukraine crisis is forcing a change of strategy.
OAO Lukoil will cut spending to reduce its dependence on international debt markets, billionaire shareholder Leonid Fedun said in an interview. It also plans to build a cash reserve of $30 billion over the next five years to guard against the risk of further disruption to capital markets and to finance future acquisitions, Fedun said before the company's annual meeting.
"Entering capital markets right now is tough -- for bonds or credit," Fedun said in Moscow. " Banks are scared, compliance is very strict, there is the threat from sanctions. There was a specific pressure put on banks by Washington."
To boost cash, the company will offer at least $1 billion in shares in Hong Kong as early as next year and reduce capital spending by a quarter, he said.
Lukoil's new tack shows the impact the collapse in relations with the U.S. and EU is having on Russia's largest companies after President Vladimir Putin's decision to annex Crimea from Ukraine. The Moscow-based oil producer, which pumps about 20 percent of the country's crude, postponed plans to sell $1.5 billion of Eurobonds this month.
The yield on Lukoil dollar bonds due in April 2018 rose from 3.2 at the end of February to a record high of more than 5 percent in April. It's since dropped back to 3.4 percent. Russian issuers -- among the biggest borrowers in emerging markets last year -- have cut offerings in dollars and European currencies by 74 percent to $7 billion so far this year compared with the same period in 2013.
Lukoil shares gained as much as 1.2 percent to 2,061 rubles in Moscow and traded at 2,055.5 rubles at 12:15 a.m. local time.
Iraq Project
"We spent $20 billion each of the last two years -- that won't happen again." Fedun said. The company aims to cut investment to $15 billion to $16 billion a year, he said. Spending this year was driven by completion of a production project in Iraq and a refinery upgrade program in Russia.
Lukoil's 2015 investment program will probably be slightly less than this year's and can be funded without borrowing if necessary, Fedun said. If there is an Asian alternative to European and U.S. debt, then it will be in Chinese equity markets, he said.
Lukoil wants to conclude all regulatory procedures for a secondary public offering in Hong Kong by the end of this year, he said. The proposed sale of at least $1 billion in shares from the company's treasury may happen next year, he said.
"Not long ago there was a big Gazprombank conference in Hong Kong and investors confirmed it -- they are expecting us," he said.
Lukoil may continue asset sales this year. Mature overseas deposits may be sold at the right price as the company focuses on new projects with growth prospects, he said.
Army Officer
Iraq's West Qurna-2, Lukoil's largest overseas project, will become self-financing next year, Fedun said. Output is about 230,000 barrels a day and headed for 400,000 barrels a day by the end of the year. Output will continue to grow, reaching 1.6 million barrels a day at the start of 2017, he said.
Military action in central and northern Iraq hasn't disrupted operations and is being monitored carefully, he said.
"As a former military man, I have no doubt that Iraq's army can stabilize the situation," said Fedun, who was an officer in Soviet Union's armed forces.
The start of a catalytic cracking unit at the Nizhny Novgorod refinery next year will conclude Lukoil's refinery modernization investments for the most part, increasing the company's cash flow, he said.
New Strategy
The new strategy will take a more conservative approach to estimating the company's potential production from its reserve base, Fedun said.
"There will be a more moderate number for output ten years ahead, although there will be growth all the same," he said. The Lukoil executive reiterated the company's output growth forecast of about 1.5 percent for both oil and gas this year.
"We will build up free cash flow that will cover both capital spending and dividends; our previous aims on their growth are unchanged," Fedun said. It "will also allow us to amass $20 billion to $30 billion to make a large acquisition" no sooner than five year's time, he said.
Before it's here, it's on the Bloomberg Terminal.
LEARN MORE