Google's DIY Cardboard-and-Smartphone Virtual Reality Headset
by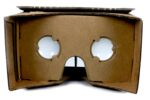 Google gave a gift to everyone who came to its developers conference this week: a kit to make a virtual reality headset out of folded cardboard and an Android smartphone. Virtual reality has lurched through several hype cycles over the past few decades, and we are smack in the middle of the latest one, inspired by Oculus VR, the headset maker that Facebook bought for $2 billion in March.
Oculus's promise is similar to the high-end vision for virtual reality that has existed for years: You use technology to transport yourself convincingly to another world. In the past, the headsets have been too expensive and not convincing enough to catch on. Plus, they gave a lot of people headaches. Oculus uses new technology that addresses many of these problems. The underlying idea, though, is the same, Virtual reality is kind of the antithesis of the smartphone: One you carry around the world, the other you sit with on your couch and let a different world come to you.
Cheap, disposable virtual reality headsets could be something different. They might not be as immersive as Oculus, but that might be a virtue. Plus, they're cheap. Google's version works like this: You download some software to your Android, fold the cardboard into a shape that resembles ski goggles, and slide the phone in so it's held in front of your eyes. Then look at the phone through some Google-supplied lenses, run the software, and—Voila: a 21st century View-Master.
Google didn't come up with this idea out of nowhere. The Institute for Creative Technologies at the University of Southern California has been experimenting with smartphone-based virtual reality since 2011. It uses the sensors in the phone to track a user's movements and special smartphone apps that, when viewed through the headset, appear in 3D.
Initially, the headsets used lenses from magnifying glasses, with a slot for an iPhone to slide into. Soon USC was experimenting with cardboard versions; Palmer Luckey, who founded Oculus, was folding up his version of the headsets while developing the idea for his own company. The latest generation of USC's lightweight virtual reality glasses starts with a file for a plastic headset that can be printed by anyone with access to a 3D printer, a headset that can then be attached to a smartphone or tablet. The headsets cost practically nothing to make. I recently used a set at the lab, and the effect was surprisingly convincing.
It's not clear exactly what this kind of virtual reality is good for. USC's initial work was funded in part by the U.S. Army, which is interested in new ways of training troops. (The military in general is quite bullish on virtual reality.) Google's version allows people to fly through 3D objects or get virtual tours of the Palace of Versailles.
The lab at USC has been developing a range of software programs tailored to the lightweight version of virtual reality. In one, you read an organic chemistry textbook on a tablet, then look through the glasses attached to the device to navigate through chemical compounds to understand their forms. Others are abstract art projects. The goal behind each one, says Mark Bolas, the lab's director, is to blur the distinction between the real and digital worlds.
"I don't see a dividing line between virtual reality and real reality," he says. "I think in a few years they're going to be indistinguishable. We're working on mixing those two things."
Before it's here, it's on the Bloomberg Terminal.
LEARN MORE