Consumers Say No to Three Big Food Brands
By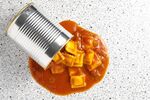 Three lackluster brands are dragging down ConAgra Foods' sales: Healthy Choice, Orville Redenbacher's, and Chef Boyardee. In the quarter ended May 25, volume sales of these consumer foods fell 7 percent. Over the last 12 months they were down 3.1 percent.
The three brands haven't kept up with changing tastes. Consumers want to eat healthier, but they don't want frozen healthy meals (frozen foods in general have been suffering); they're guzzling beer-margaritas from a can (à la Bud Light Lime Straw-Ber-Rita) but eating less canned spaghetti—and other canned foods; and popcorn sales have been strong, but not for Orville Redenbacher's.
ConAgra Chief Executive Officer Gary Rodkin said during an earnings call today that the company will discontinue underperforming Healthy Choice varieties and focus on newer ones such as Café Steamers (which are cooked in the microwave). "Café Steamers is a truly differentiated product line, has proven staying power, and has good margins," he said.
Regarding Chef Boyardee, Rodkin said that removing the easy-open lid last year "was a mistake" and that ConAgra will bring back those cans. The company will also market the products' high protein content, about 16 grams per can, and the cost, roughly $1 a can on average. He added: "We are seeing good growth in Chef Boyardee microwave cups, so we believe the chief equity still has strength and are looking forward to leveraging that."
As for popcorn, Rodkin said simply that Orville Redenbacher's is trying to be more competitive in retail.
Not all of ConAgra's foods have been disappointing: Slim Jim meat snacks, Bertolli frozen meals, and Reddi-wip had "good sales performances."
Before it's here, it's on the Bloomberg Terminal.
LEARN MORE