Coming Soon to Walmart: A New Way to Find Products from Women Entrepreneurs
by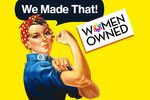 Retail labels are full of signals designed to appeal to shoppers' preferences and values: Made in America, gluten-free, fair trade, or kosher. Soon, shoppers will be able to look for a new one: A small, circular symbol indicating that the company behind the product is owned by women.
The logo is the work of two nonprofits and Wal-Mart Stores, which, beginning in September, will sell products with the stamp ranging from lingerie to salsa. The retail giant pledged in 2011 to source $20 billion of goods by 2016 from women-owned businesses in the U.S.
"People are looking for reasons to feel good about the company they're buying from," says Pamela Prince-Eason, chief executive officer of the Women's Business Enterprise National Council. Her group, along with WEConnect International, certifies businesses seeking contracts earmarked for women-owned businesses. Any business that gets the stamp of approval from either organization can use the logo, Prince-Eason says.
Lingerie brand Smart & Sexy and West Virginia-based Maggie's Salsa are among the women-owned businesses that plan to adopt the logo. Prince-Eason believes many more will follow. "I think there's a very strong business case for having the logo on a product," she says, citing research from Walmart that found 90 percent of female shoppers will seek out goods marketed by women-owned businesses.
She's probably right. Expressing values through buying decisions has become a regular practice for a certain breed of shopper (albeit one more likely to be found at Whole Foods than Walmart). Customers look for logos proclaiming a product is certified kosher or free from genetically modified organisms. Campaigns that encourage local shopping have also proven successful: American Express says the Small Business Saturday promotion it sponsors drove billions of dollars to small business owners last year.
Is there a place for products from women-owned businesses in the catalogue of items for values-driven shoppers? Unlike kosher or gluten-free, the designation doesn't tell you anything about the inherent qualities of the merchandise. Backing women-owned businesses is more akin to asking consumers to buy fair-trade goods or items made in the U.S.—a more abstract expression of values. Prince-Eason says she hopes the logo, which resembles a ring of women with their arms around each other, can inspire female consumers to act on a sense of solidarity.
Keep an eye on the salsa shelf to see if it works.
Before it's here, it's on the Bloomberg Terminal.
LEARN MORE