The Maker Movement Gains Ground in China
Inventors and tinkerers are gathering with government support
Christina Larson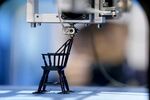 On a Wednesday night in late May, about 60 people assembled in a warehouse in downtown Shanghai for a presentation on how to make mini sports cameras like the popular GoPro. The meeting was organized by XinCheJian, one of China's first hackerspaces, which offers workshops for participants interested in design and technology to create everything from robots to smartphone apps.
The weekly gatherings attract 30 to 150 people and offer them a way to share ideas, skills, and inspiration. After attending a meeting in 2012, Rockets Xia, an environmental advocate with a Chinese nongovernmental organization, was so impressed by a 3D printing demonstration that he quit his job and went to work for DFRobot, a Shanghai-based company that makes robotics kits and other hardware for hobbyists.
The popularity of XinCheJian, which means "new factory," is a sign of China's joining the growing maker movement—what former Wired editor Chris Anderson in his 2012 book Makers described as the "third industrial revolution," in which entrepreneurs use open-source design, 3D printing, and crowdfunding to manufacture goods on their own. In China, 30 independent hackerspaces, including XinCheJian, have opened across the country.
"DIY culture may be a little slower to pick up in China, but we're closer to the supply chain," says David Li, a Taiwan-born programmer who co-founded XinCheJian in 2011. "Everyone knows someone who works in manufacturing." That makes it easier to move ideas from hobbyist tinkering to larger production runs. "Makers turn startup much faster in China," says Li. That's why governments in Shanghai and other cities, eager to jump-start innovation, are supporting the movement.
Xia, a product manager at DFRobot, is overseeing production of a new 3D printer—named the Overlord after a creature in the popular computer game StarCraft—that the company plans to sell for about $500. "We want everybody to use a 3D printer to make a better life," he says. "We won't have to buy toys anymore, just print them." The company, founded in November 2008, has grown quickly to $3 million in revenue in 2013 from $900,000 in 2010. Its top markets for robot kits include the U.S., France, Germany, and Russia.
The Shanghai government announced a program in 2011 to start 100 hackerspaces in the city, offering each up to 500,000 yuan ($80,000) in funding. In 2012, XinCheJian and DFRobot co-sponsored a Shanghai maker carnival with the Communist Youth League. Li estimates 50,000 people visited XinCheJian's booth. "Without government approval, we couldn't possibly organize a large outdoor public gathering in China," he says.
Makers are also coming together for social causes. In mid-May, XinCheJian partnered with Shanghai-based social startup Nestworks on a hackathon to redesign remote-control cars for children with disabilities. The hackers replaced toggles with large flat buttons that "don't require fine motor skills," says Nestworks founder Leigh-Anne Russell. "There are few off-the-shelf toys available for disabled kids" in China or elsewhere, she says. The cars will be donated to local charities.
The maker movement has even captured the attention of Chinese industry leaders. Manufacturer Foxconn Technology and supply-chain logistics company PCH International co-sponsored the Maker Faire in the southern city of Shenzhen in April, attracting 30,000 people. When Foxconn Executive Chairman Vincent Wang, a featured speaker at the event, took to the stage to talk about innovation, his message was a boost for the makers: Companies such as his can learn a lot from them.
Before it's here, it's on the Bloomberg Terminal.
LEARN MORE