Cameron Digs In for Long EU Campaign as Defeat Approaches
Thomas Penny and Robert Hutton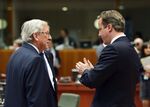 U.K. Prime Minister David Cameron vowed a lengthy campaign to win change in Europe as he set about transforming his attempt to block Jean-Claude Juncker's appointment to the European Commission into a domestic victory.
Cameron conceded today he's facing defeat over Juncker after he was left isolated when traditional allies from Germany to Sweden peeled away.
"I know the odds are stacked against me," Cameron told reporters in Brussels as he arrived at the summit. "There are times when it's important to stick to your principles rather than go along with something that's profoundly wrong."
Cameron sees his opposition to Juncker as a signal to other European Union leaders that he's willing to be difficult to get what he wants, said a U.K. official familiar with the premier's thinking who asked not to be identified because the discussions take place in private. That means a confrontational tone for British involvement in the EU until a promised ballot on membership of the bloc in 2017, the official said.
The 28-nation EU's chiefs resumed their summit in Brussels after commemorating the centenary of the start of World War I in Ypres, west of Brussels. They signed association agreements with Georgia, Moldova and Ukraine this morning and will discuss the conflict in Ukraine before turning to the commission appointment over lunch from about 1 p.m.
'No Blockage'
Cameron, who says Juncker is too keen on a centralized EU, has said he will force a vote rather than allow the Luxembourger's appointment at the head of body that proposes and enforces EU-wide laws and monitors the single market to be nodded through.
"There is no blockage" over Juncker, Spanish Prime Minister Mariano Rajoy said as he arrived at the meeting today. "We are 28, and 25 or 26 don't think he's the wrong person."
Cameron has promised to renegotiate Britain's relationship with the EU before the in-or-out referendum if he wins next year's national election. His rejection of Juncker, regardless of the outcome of today's summit, has played well with EU skeptics in his Conservative Party who have warned him he will continue to lose votes to the U.K. Independence Party if he doesn't step up his opposition to the EU.
"This is just the start of a long campaign, and it's very important in that campaign that people know what I say, I will do," Cameron told reporters in Ypres yesterday. "I will make that argument, I will stick to my guns, I will stick to my principle."
Cross-Party Support
He is buoyed by the support for his stance against Juncker -- if not his tone -- from his Liberal Democrat coalition partners and the main opposition Labour Party.
Even so, in trying to salvage domestic credit from his probable EU defeat, he risks stoking the anti-EU mood in Britain that saw UKIP win May's European Parliament elections on a platform of exiting the bloc.
The Conservative prime minister "certainly will not" be able to get what he wants through the usual EU method of seeking consensus, according to Bill Cash, a Tory lawmaker who has resisted European integration for more than two decades.
"He's right to take a stand," Cash said in an interview. "Juncker represents ever-closer union, and we don't want it. We've got member states who say that they want reform but who won't do anything about it. If we want a Europe that works, we're going to have to stop and reverse."
Reform Agenda
Some EU politicians held out the hope that Cameron will be soothed by a pro-business slant to the bloc's future policy program and by appointments to other top jobs in coming weeks. Another summit will probably be convened to fill the EU's remaining top posts on July 17, the day after the European Parliament votes on the pick of commission president, Irish Prime Minister Enda Kenny told reporters.
Leaders were due to discuss a reform agenda today over breakfast, which Juncker will attend, a German government official told reporters in Berlin two days ago. This will involve clamping down on abuse of free movement of workers, reducing red tape, deepening the internal market and pursuing free-trade deals, the official said. It's not simply a concession to Cameron as Germany is in favor of such a program, the official said.
"He's making the best of a bad job," said Tim Bale, professor of politics at Queen Mary University, London. "It would have been better to achieve things through quieter diplomacy. But having chosen the route he chose, it's better to follow it to the bitter end."
Before it's here, it's on the Bloomberg Terminal.
LEARN MORE