When the Weatherman Is in the Cockpit
Commercial aircraft add weather-sensing gear to bolster forecasts
By and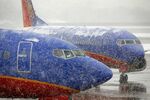 As a storm predicted to deliver freezing rain and ice neared Dallas last November, airlines began canceling hundreds of flights. Not Southwest Airlines. Armed with a new generation of sensors on 87 of its planes measuring moisture in the air, the airline had better data than the U.S. government's twice-a-day weather balloon system. Its weather team knew there would be no ice storm hazard—and its planes could fly. "We saw it wasn't going to happen here," says Rick Curtis, Southwest's chief meteorologist. "It was too warm, and there were some dry layers in places in the atmosphere."
The prediction of storms and atmospheric conditions such as turbulence is undergoing a revolution that has the potential to trim airline delays, cut costs, and reduce in-flight injuries. Late flights cost airlines as much as $8 billion a year, so even incremental declines in delay rates are important.
Weather sensors on the ground are plentiful, yet much less is known about real-time conditions in the atmosphere. The National Weather Service's weather balloon program takes soundings only twice a day from 69 locations in the continental U.S. The data radioed to the ground can be as much as 12 hours old or hundreds of miles away from where meteorologists need it. "We have the computing power to make much better forecasts than we do," says Richard Mamrosh, a senior forecaster at the National Weather Service's office in Green Bay, Wis. "The thing that's holding us back is the data above the ground."
That's where commercial airliners come in. They make more than 25,000 flights a day, providing a far broader platform for weather sensing. United Parcel Service has equipped 25 of its planes with devices made by Houston-based SpectraSensors and, together with Southwest, provides the Weather Service more than 50,000 reports a day across North America. UPS's Louisville hub is nowhere near the closest National Weather Service weather balloon-launching site, making forecasting difficult, says Randy Baker, the senior meteorologist for the shipping giant. In one instance, traditional forecasts predicted overnight frost in Louisville, which usually involves anti-icing spray costing "tens of thousands" of dollars per use, he says. But as planes started arriving, data from the technology showed that the forecasts were wrong. "We were able to call the de-icers and say, 'Stand down,' " Baker says. "We saved quite a bit of money."
American Airlines Group has started getting real-time turbulence reports from a system developed by forecaster WSI, a sister company of Weather Co.'s Weather Channel. If a plane in the system detects dangerous turbulence, it automatically transmits that information to the ground via radio waves. Dispatchers are notified so they can warn other pilots in the area. WSI has also installed its system on planes flown by Alaska Air Group and Hong Kong Dragon Airlines. The system has reduced maintenance expenses required after severe turbulence and cut the number of in-flight injuries, says Des Keany, manager of American's flight planning and weather support.
Almost 300 aircraft flown by Delta Air Lines, United Continental Holdings, and Southwest also transmit turbulence data to the National Weather Service, which uses them to provide a public forecast of rough air, says the Federal Aviation Administration, which funds the effort.
Meanwhile, Panasonic has helped outfit an additional 225 U.S. planes with humidity-measuring gear, allowing more precise thunderstorm forecasts than traditional temperature and wind speed monitors. In California, which has only two weather balloon sites along the coast on the southern half of the state, the National Weather Service uses the aircraft humidity data to determine when fog will occur, Mamrosh says.
Meteorologists want carriers in Latin America and Africa to add sensors because little is known about atmospheric conditions there. "There are a lot of places in the world where I would like to just get temperature and wind information," says Patricia Pauley, a meteorologist and specialist in aircraft data at the Naval Research Laboratory in Monterey, Calif. "Humidity would be the icing on the cake."
Before it's here, it's on the Bloomberg Terminal.
LEARN MORE