With Alitalia, Etihad Adds to Its Global Stable of Airlines
by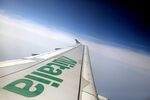 Most airlines grow by adding planes to their fleet. Etihad Airways likes to invest abroad, buying stakes in other airlines. Its latest purchase—and largest to date—came Tuesday when the Persian Gulf carrier agreed to extend Alitalia a financial lifeline with the purchase of a 49 percent stake. The Italian airline now becomes the eighth in Etihad's investment portfolio.
The deal will give Etihad access to a large nation with heavy corporate and tourism travel and will complement its investments in such airlines as Virgin Australia and Air Berlin, a German discount carrier. Etihad also has stakes in Aer Lingus of Ireland, India's Jet Airways, Air Serbia, Air Seychelles, and Switzerland's Darwin Airline, which flies as Etihad Regional. The investments are primarily designed to help Etihad expand into a global airline connecting traffic at its Abu Dhabi hub.
Etihad will invest about €560 million ($762 million) for the Alitalia stake, Bloomberg News reported, citing two people familiar with the matter. The airlines did not disclose financial details of the deal, and a spokesman for Etihad in Milan declined to comment. The deal is subject to regulatory approvals and is expected to be formally signed next month.
Alitalia has been financially troubled for years, operating with losses and undergoing privatization six years ago. It has required periodic cash injections, including from Air France-KLM, which owns a small stake and declined to participate financially in the latest restructuring.
At the core of the cost trouble: Alitalia has never made the substantial employee reductions that analysts have prescribed to make the company's workforce reflect its network. That exercise has proved largely futile in recent years, owing to the airline's history as a state-owned enterprise and a major employer nationwide. At the same time, Alitalia's major international rivals in Europe and America have restructured, while Middle Eastern upstarts have expanded rapidly.
In December, Etihad Chief Executive James Hogan told the Wall Street Journal that his airline investment strategy is a "smarter" method of building a network: "Working with like-minded carriers" to cover "countries and regions where we would never have the depth to cover their domestic network." Rival airlines in Europe and America contend that the UAE-based airlines—Etihad, Emirates, and Qatar—receive heavy financial aid from their governments. The carriers deny operating with any such subsidies.
Before it's here, it's on the Bloomberg Terminal.
LEARN MORE