U.S. Intelligence Sees Iraqi Militants Gaining Strength
Terry Atlas and David Lerman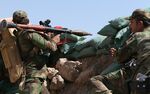 Sunni militants are consolidating their hold on a swath of Iraq and now threaten the integrity of the Iraqi state, U.S. military and intelligence officials said.
The main insurgent group, an al-Qaeda offshoot known as the Islamic State in Iraq and the Levant, or ISIL, is gaining strength through a Sunni uprising against the Shiite-led government, according to an intelligence official who briefed reporters by phone yesterday on the condition of anonymity to to discuss intelligence matters.
ISIL now controls most of a "central swath" of Iraq, is "solidifying gains" and poses "a legitimate threat to Baghdad," Rear Admiral John Kirby, the Defense Department spokesman, told reporters in a briefing at the Pentagon.
The militants "are killing and maiming, but they're also grabbing ground," Kirby said. "They are behaving like an organized force."
The dire assessments point to the challenge that the Iraqi government faces -- even with potential U.S. airstrikes -- in trying to defeat a few thousand ISIL fighters bolstered by thousands more disaffected Sunnis, captured weapons and money from looting banks and extorting businesses. ISIL's advance threatens Iraqi military control of the large Balad air base northwest of Baghdad, the intelligence official said.
The U.S. has pressed Iraq's Prime Minister Nouri al-Maliki to form a more inclusive government that gives more say to Sunnis and Kurds, and some politicians in the country have called on him to step down. In a televised address today, the Shiite premier spurned calls that he relinquish power as a "coup against the constitution and the process."
Potential Overreach
ISIL may jeopardize some of its gains if it overreaches by advancing to Baghdad and beyond, Shiite-majority areas hostile to the Sunni insurgency, the U.S. intelligence official said.
A small contingent of U.S. forces has arrived in Iraq to gather intelligence for possible U.S. airstrikes and establish an operations center in Baghdad, Kirby said. Forty troops already stationed at the U.S. embassy have begun the new assessment mission, and 90 more from the Middle East region have arrived in Baghdad, bringing to 130 the number of personnel involved, Kirby said.
The U.S. began conducting regular surveillance flights over Iraq with both manned and drone aircraft on June 13 at the request of the Iraqi government, according to the Pentagon. Now 30 to 35 such flights are conducted daily.
Intelligence Warnings
While the crisis has escalated quickly, the U.S. intelligence community has warned officials over the past year about the deteriorating security situation, including the weaknesses in the Iraqi military and the political strains, the intelligence official said. More recently, the intelligence agencies provided tactical warning before ISIL's takeover two weeks ago of Mosul, Iraq's second-largest city, the official said.
Those comments may fuel questions in Congress and elsewhere about whether President Barack Obama, for whom ending the Iraq war is a legacy matter, has been slow to react to a terrorist group whose advance jeopardizes a decade of U.S. efforts to build a stable democracy following President George W. Bush's invasion in 2003.
The intelligence official wouldn't comment on assessments about U.S. military options, such as the airstrikes sought by Iraq's Shiite prime minister, Nouri al-Maliki. The official also wouldn't comment on whether ISIL has obtained weapons that would threaten U.S. warplanes conducting airstrikes.
Political Solution
The U.S. has said that ending the insurgency depends on Iraqi leaders reaching agreement on a unity government that addresses the complaints of minority Sunnis and Kurds. U.S. Secretary of State John Kerry visited Baghdad and Erbil, the Kurdish regional capital, this week to press for a political solution.
U.S. airstrikes alone won't change the outcome, Kerry said in a BBC interview yesterday. "There may be military action, but there has to be a political solution that deals with empowering the people in the communities where ISIL is today to be prepared to take them on," he said.
His remarks reflect the intelligence official's assessment that a core group of about 3,000 ISIL fighters would not be so successful were it not for the anger among many Iraqi Sunnis who don't necessarily share ISIL's declared goal of establishing a strict Islamic caliphate.
Noncombatants Killed
Brent crude for August settlement fell for the third time in four days as Iraq pledged to increase output and exports. It declined 99 cents, or 0.9 percent, to $113.47 a barrel on the London-based ICE Futures Europe exchange at 9:27 a.m. New York time.
As of today, 1,300 Iraqi civilians have been killed and 1,250 wounded in the unrest this month, Nickolay Mladenov, the United Nations' Iraq envoy, told reporters today by video from Baghdad.
The death toll in Iraq "includes a number of verified summary executions and extra-judicial killings," according to a report yesterday by the UN, which said it's receiving reports of abuses by both ISIL and Iraqi forces.
Military Assessment
Obama has authorized as many as 300 troops to be sent to Iraq as advisers, while ruling out a ground combat role. It will take two to three weeks to complete initial assessments of the Iraqi military's capability to combat the Sunni militants, Kirby said.
The U.S. military advisers are being sent to assess the strength of the Iraqi army, whose troops in some cases fled from advancing militants, and which units are salvageable, according to a U.S. military official familiar with the mission's planning who spoke on condition of anonymity to discuss classified matters.
They also are determining whether U.S. airstrikes are possible, including whether targets provided by the Iraqis can be trusted and aren't aimed at settling scores in the country's sectarian and ethnic feuds, the official said. In addition, the advisers are trying to determine whether ISIL units can be distinguished from civilians, tribal militias and Iraqi government forces accurately enough to permit the use of air power.
CIA Relationships
In particular, the official said, the U.S. wants to avoid hitting Sunni tribesmen who now are fighting alongside ISIL but previously were allied with U.S. forces during the "Sunni Awakening" against Islamic extremists. Any hope that the Central Intelligence Agency, which once paid some of the tribal leaders for their support, can rebuild its relationships with them would be lost if U.S. airstrikes hit the wrong targets, a second U.S. intelligence official said.
In Iraq, battles continued to control a key refinery at Baiji, north of Baghdad, the site of almost two weeks of fighting, and clashes occurred along Iraq's borders with Syria and Jordan.
The first intelligence official said ISIL's military capabilities have improved dramatically as the group has captured advanced weapons from military stockpiles in Iraq and in Syria, where the group is fighting the Syrian government as well as moderate Islamic groups opposed to the regime of Syrian President Bashar al-Assad.
Extortion, Kidnapping
ISIL is largely self-financing through criminal enterprises including extortion, kidnapping and shaking down businesses for protection payments, the official said.
The official said the U.S. doesn't consider ISIL an affiliate of al-Qaeda. That presents a potential legal hurdle to ordering airstrikes against the group, said Christopher Swift, an adjunct professor in Georgetown University's security studies program and an international lawyer with Foley & Lardner LLP.
The 2001 Authorization for the Use of Military Force against terrorists "wouldn't cover such strikes because ISIL isn't part of al-Qaeda and wasn't involved in planning, authorizing or committing the 9/11 terrorist attacks" as the authorization law requires, Swift said.
Instead, he said, "the president would be forced to rely on his authority as commander-in-chief without the benefit of Congress's formal backing." Under the War Powers Act, Obama would have 48 hours after ordering any strikes to notify Congress and 60 days to continue them until Congress could intervene, he said.
Two leading Republican senators, Lindsey Graham of South Carolina and Marco Rubio of Florida, told reporters after a closed-door briefing by administration officials yesterday that Obama has all the authority required to take military action in Iraq.
"The president doesn't need our approval to make these decisions," Graham said.
Before it's here, it's on the Bloomberg Terminal.
LEARN MORE