Sudan Woman Freed in Apostasy Case Is Held After Re-Arrest
Ahmed Feteha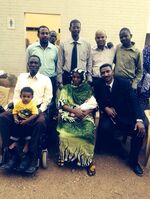 A Sudanese woman arrested a day after a local court overturned her death sentence for apostasy is in police custody on charges of presenting forged travel documents and giving false information, her lawyer said.
Members of Sudan's National Intelligence and Security Service detained Meriam Yehia Ibrahim, 27, yesterday with her husband, Daniel Wani, and two children at the airport in the capital, Khartoum, as she tried to board a flight to leave the country, Elshareef Ali, one of her lawyers, said today by phone.
Ibrahim was using a valid travel document issued by the embassy of South Sudan, which gained independence from Sudan in 2011, the country's Charge d'Affaires in Khartoum, Kau Nak, said today by phone. Her husband is a South Sudanese and U.S. citizen.
"The travel document she is holding is authentic and issued by the embassy," Nak said. "Meriam has been married to a South Sudanese citizen since 2011, and she holds a valid marriage certificate. We have issued her an emergency travel document because of that."
Nak said he was asked today to come to the Sudanese Ministry of Foreign Affairs.
Ibrahim was released from jail on June 23 when an appeals court canceled the death sentence she received in May after refusing to recant her Christian faith in favor of Islam. The case sparked condemnation from governments including the U.S. and U.K. as well as rights groups such as Amnesty International.
Information Minister Ahmed Bilal Osman said Ibrahim's renewed detention wasn't related to the court case.
Apostasy Case
"Her arrest has nothing to do with the apostasy case, that one is over," he said today by phone. "She has procedural problems in her travel documents."
Police spokesman al-Ser Ahmed Omar said today by phone that he couldn't comment on the case while investigations were under way. Abu Bakr al-Sideeg, spokesman for the Ministry of Foreign Affairs, didn't answer three calls to his phone seeking comment.
"She is in a very bad condition now, imprisoned again with her children," Ali said.
Ibrahim was originally arrested in August after men who said they were from her father's side of the family reportedly accused her of adultery because of her marriage to Wani, a Christian.
An apostasy charge was added when she said she followed the Christian faith of her Ethiopian mother and was never a Muslim, contradicting the court, which considered her to be sharing her Sudanese father's religion.
Sudan's Foreign Ministry said in a statement after the court order for Ibrahim's release that the government had refused to interfere in the work of the judiciary after coming under "unprecedented pressure" by foreign governments and international organizations to do so.
Before it's here, it's on the Bloomberg Terminal.
LEARN MORE