Richard Sharp, Who Led CarMax in Circuit City Split, Dies at 67
David Henry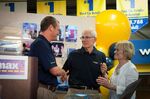 Richard L. Sharp, who co-founded the used-auto dealer CarMax Inc. while serving as chief executive officer at the consumer-electronics chain Circuit City Stores Inc., has died. He was 67.
He died on June 24 from posterior cortical atrophy, a rare form of Alzheimer's disease, according to a statement from Richmond, Virginia-based V-Ten Capital Partners, where he was a managing director. His death occurred at his home in Goochland County, Virginia, the Richmond Times-Dispatch reported on its website.
Sharp was CEO of Circuit City, then the second-largest U.S. electronics retailer, from 1986 until 2000 and stepped down as chairman in June 2002, eight years before the Richmond-based company sought bankruptcy protection. Under Sharp, Circuit City boosted annual revenue to about $10 billion from $175 million. After developing the CarMax used-car business for almost a decade, Sharp presided over the spinoff of the unit from Circuit City in 2002 and became CarMax's chairman. His co-founder, Austin Ligon, served as CEO.
During Sharp's tenure from 2002 until 2007, CarMax became the largest retailer of used cars in the U.S., selling more than 2 million used vehicles and reaching its sales target of $5 billion in 2005. The share price tripled in the same period.
"He was instrumental in the formation and development of CarMax -- creating the vision for the revolutionary concept in the early 1990s," Tom Folliard, the company's CEO, said in an e-mailed statement. "His commitment to integrity and passion for giving back to the community continue to be our guiding principles. Rick's influence on the company is profound and will have a lasting impact."
Footwear Maker
Sharp was a founding investor and chairman at Niwot, Colorado-based Crocs Inc., a maker of colorful plastic clogs, from 2005 until 2011. During that time, the company had its initial public offering.
Born on April 12, 1947, in Washington, D.C., Sharp studied electrical engineering at the University of Virginia from 1965 to 1966 and computer science at the College of William and Mary in Williamsburg, Virginia, according to a profile for the Consumer Electronics Association Hall of Fame. He served in the U.S. Air Force from 1967 until 1970, according to Marquis Who's Who. Sharp attended Harvard Business School's Advanced Management Program in 1985.
At age 27, Sharp founded Applied Systems Corp., a Vienna, Virginia-based developer of computer hardware and software, in 1975 and was CEO while it grew to employ more than 300 people, according to V-Ten Capital Partners. He joined Circuit City in 1982 and became president at the company two years later.
Electronics Design
In 1992, Sharp was a founding investor and chairman of Flextronics International Ltd., a San Jose, California-based electronics design and manufacturing company with annual revenue of more than $30 billion, according to the hall of fame profile.
"Rick has all of the attributes that make for a great leader," Michael Marks, a former CEO of Flextronics, said in a May 2013 interview, according to the Times-Dispatch. "He's smart, personable, not egocentric, incurably curious about all things. He's one of these people who seem to know something about everything. He makes very fast decisions and always honors his commitments."
Survivors include his wife of more than 45 years, Sherry, their two daughters and four grandchildren, all residents of Richmond, according to V-Ten Capital.
Before it's here, it's on the Bloomberg Terminal.
LEARN MORE