Now That Barnes & Noble Has Ditched the Nook, Will It Sell Itself?
By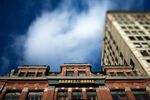 The Nook e-reader was once seen as Barnes & Noble's savior. Now it's a castoff.
The book retailer said on Wednesday that it would spin off Nook Media into a separate company after a prolonged sales decline during which Apple and Amazon.com demolished the company's digital efforts. The move had long been expected, but investors cheered anyway, with Barnes & Noble shares surging 14 percent.
Essentially ditching the Nook—an expensive digital strategy that appears not to have worked, given the competitive landscape—could make the bookseller's core retail operation more attractive to a buyer. It also means Barnes & Noble is likely to enjoy the benefits of digital promiscuity in an Apple/Android/Amazon world, selling content for a variety of devices and not tethered to any exclusivity with the Nook.
"By definition, if you separate retail from Nook Media you're bound to attract different kinds of investors from the capital markets," Barnes & Noble Chief Executive Officer Michael Huseby said in an interview, declining to discuss the likelihood of a sale for either business. He said the main retail business has seen a financial rebound in recent quarters.
Nook sales fell 22 percent, to $87 million, in the most recent quarter and dropped more than 35 percent for the full fiscal year ended May 3. The device's weak performance also dragged down digital book sales, which fell 21 percent for the year, to $246 million. Overall, Barnes & Noble's quarterly loss narrowed to $37 million, from $115 million a year earlier.
Earlier this month the company announced a partnership with Samsung Electronics to make co-branded tablets, in a move to help Barnes & Noble reduce its hardware expenses. Its Nook employees also decamped from a large Palo Alto campus to two smaller offices in the area, saving $102 million in leasing costs. Both efforts, coupled with the separation from Nook in early 2015, suggest that Huseby is looking to spiff up the retail operation's financial performance. The company has focused on building its college books business and selling educational toys, games, and collectibles for young people.
Would anyone want to take over the Nook business? Microsoft has come up as an interested buyer, as the software giant acquired a 17 percent stake in the Nook unit in 2012. U.K.-based book publisher Pearson bought 5 percent that same year.
The retail business, meanwhile, has long been the subject of takeover speculation and sustained a derailed effort in 2013 by founder Leonard Riggio to buy the company. Barnes & Noble also received an offer in February from G Asset Management, which wanted to buy 51 percent of the bookseller for $22 per share. Analysts questioned whether the investment firm could finance an acquisition.
Before it's here, it's on the Bloomberg Terminal.
LEARN MORE