Krona's Race to Bottom Counters Krugman's Criticism
Neal Armstrong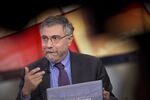 The krona depreciating to its weakest level in 2 1/2 years is giving Sweden a boost in its battle against deflation as it grapples with criticism from Nobel laureate Paul Krugman.
The 5.5 percent slump in the krona since December is the worst among 10 developed-market peers tracked by Bloomberg Correlation-Weighted Indexes. A gauge used by the Riksbank to assess the currency shows it to be the weakest since June 2012.
Traders are pushing the krona lower amid bets the Riksbank will step up efforts to help Sweden's economy emerge from a bout of falling consumer prices that Krugman identified as a potential deflationary spiral. With its neighboring central bank in the euro area already easing monetary policy, the Riksbank may need lower interest rates to succeed. A falling exchange rate works in its favor by boosting the cost of imported goods and cutting the price of exports.
"A rate cut looks fully priced for July and the market is speculating the Riksbank could even go again in September because inflation is staying low," said Chris Turner, head of foreign-exchange strategy at ING Groep NV in London. "Everyone wants a weaker currency at a lower rate profile."
Sweden is under increasing pressure to take steps that will help it boost inflation as international counterparts ramp up their own currency-debasing measures to revive growth.
Deflation Threat
The European Central Bank introduced a package of measures to counter the threat of deflation in the euro area this month, including charging lenders for cash deposits. The Norwegian krone tumbled last week when its central bank lowered its projections for interest rates.
"The level of the krona has an impact on the outlook for inflation," said Richard Falkenhall, a currency strategist at SEB AB in Stockholm. "A rate cut in July has been fully priced in for months. The market is now starting to price a second rate cut next year."
Sweden's central bank last cut its repo rate in December with a 0.25 percentage-point reduction to 0.75 percent. While that's down from 2 percent in 2011, it's above the record 0.25 percent from 2009 to 2010. A gauge of overnight interest rate expectations for 12 months starting one year from now fell to 0.7182 percent at yesterday's close, the lowest level since June 2009.
Norwegian Fallout
The Riksbank will lower interest rates in July and October, according to SEB's forecasts. The decline in the krona was sparked by the lower rate profile from Norway's central bank, SEB's Falkenhall said.
Sweden's krona fell to as low as 9.1883 per euro today, the weakest level since November 2011, and was 0.3 percent weaker on the day at 9.1797 as of 10:26 a.m. in New York. It has tumbled 3.6 percent this year, the worst performance of 16 major peers.
The decline based on Bloomberg Correlation Weighted Indexes compares with a 2 percent drop for Norway's krone, the next-biggest slide. The krona fell 4.3 percent this year to 6.7263 per dollar.
The Kronindex, a measure of the krona's strength against 32 counterparts weighted by their importance as trading partners, rose to 107.25 on June 23, the most since June 2012. Higher readings indicate a weaker krona in the measure, which is calculated by the National Institute of Economic Research and used by the Riksbank to assess the currency.
Analysts aren't convinced the Swedish currency will depreciate further, according to data compiled by Bloomberg. It will strengthen to 8.89 per euro by year-end, according to the median forecast.
Falling Short
As price growth in Sweden undershot the Riksbank's 2 percent target for more than two years, policy makers, led by Governor Stefan Ingves, have been reluctant to ease policy to balance the threat of falling prices against record consumer debt burdens. The inaction left Sweden exposed to a deflationary spiral, Krugman said in April.
Adding to the debate, the Social Democrats, seen in polls as favorite to head the government after elections in September, say they're open to letting an independent body review monetary policy because of the failure to meet its inflation target.
The prospect of disinflation, or slowing price increases, turning into deflation is unnerving officials in developed countries around the world after it caused 15 years of stagnant Japanese growth. International Monetary Fund Managing Director Christine Lagarde urged nations in January to avoid unleashing the deflation "ogre."
Outlook Adjusted
Swedish consumer prices fell 0.2 percent on an annualized basis in May, data released June 12 showed, in line with the median forecast of economists in a Bloomberg News survey. That's after the Riksbank revised down its forecast for the repo rate at its previous policy meeting in April.
"It is uncertain how quickly inflation will rise, particularly as it has been weaker than expected for some time now," the Riksbank said in a statement accompanying its decision. "The repo-rate path has therefore been adjusted down somewhat and reflects a greater probability of a repo-rate cut in the near term compared with the assessment made in February."
The central bank predicted on April 9 that annual inflation will reach 0.2 percent this year, versus a previous forecast of 0.6 percent.
"We would expect the krona to keep weakening," said Jonas Thulin, head of global alpha strategy at Nordea Bank AB in Stockholm. "There's a lot more room for the Riksbank to be dovish and try to get some kind of inflation."
Before it's here, it's on the Bloomberg Terminal.
LEARN MORE