Judge Rules U.S. 'No-Fly List' Violates Constitution
By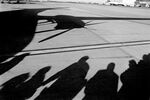 America's air travel ban on thousands of people suspected of posing a security threat is unconstitutional because there's no meaningful way to challenge inclusion on the "no-fly list," a federal judge has ruled.
"Without proper notice and an opportunity to be heard, an individual could be doomed to indefinite placement on the No Fly List," U.S. District Judge Anna Brown of Portland, Ore., wrote in a ruling (PDF) issued on Tuesday. She called it a "fundamental deficiency" of the list.
The FBI's Terrorist Screening Center developed the watch list in response to the 2001 terror attacks, and an estimated 20,000 people are now banned from commercial air travel to or from the U.S. and over U.S. airspace. People on the list can contest their inclusion, and can appeal to the Transportation Security Administration or to a U.S. Court of Appeals if their complaints are denied after administrative review. The government contends that people on the list can travel by other means, an argument the judge found wanting for international travel given the time and expense associated with ships and trains. Spokeswoman Dena Iverson said the Justice Department is reviewing the decision.
Thirteen people who had been denied airline boarding sued U.S. Attorney General Eric Holder and the FBI in 2010, contending that the list violated their rights. The plaintiffs live in several states, and include Sheikh Mohamed Abdirahman Kariye, the imam of Portland's largest mosque. Two plaintiffs are former Marines, one served in the Army, and another was in the Air Force. Some have been unable to visit family, have lost job opportunities, and have been unable to travel to Saudi Arabia for the hajj, a fundamental pilgrimage for Muslims. Several said they had been detained and questioned abroad as they tried to travel to the U.S. because of the list. (The government doesn't inform people when they're placed on the list, and the Justice Department did not confirm or deny whether any of the plaintiffs are on the list; Brown therefore assumed that the plaintiffs' contention that they are on the list was true.) "The Court concludes international travel is not a mere convenience or luxury in this modern world," Brown wrote in her decision. "Indeed, for many international travel is a necessary aspect of liberties sacred to members of a free society."
"This excellent decision also benefits other people wrongly stuck on the No Fly List, with the promise of a way out from a Kafkaesque bureaucracy causing them no end of grief and hardship," said Hina Shamsi, an attorney for the American Civil Liberties Union, which coordinated the lawsuit. "We hope this serves as a wake-up call for the government to fix its broken watch-list system, which has swept up so many innocent people."
Before it's here, it's on the Bloomberg Terminal.
LEARN MORE