Hey, Whole Foods Overcharged Only 2 Percent of the Time
by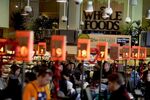 Whole Foods does a robust prepared-foods business,  charging generously per pound of food. The company has been slightly more robust in California, a result of overcharging customers, city attorneys for Santa Monica, Los Angeles, and San Diego said yesterday. The grocery chain must now pay $800,000 in penalties for pricing inaccuracy, with the court injunction covering all of California's 74 stores.
The investigation, which took more than a year, found that the state's Whole Foods stores failed to deduct the weight of containers; gave less than the weight stated on the label for items sold by the pound; and sold items such as kebabs by the piece, instead of by the pound.
Whole Foods said in a statement that prices were inaccurate only 2 percent of the time, and "while we realize that human error is always possible, we will continue to refine and implement additional processes to minimize such errors going forward."
Two percent percent might sound insignificant, but it adds up quickly. While the case is limited to California stores, nationally the prepared-foods and bakery sections represent 18.8 percent of company sales, or about $2.5 billion.
"Consumers have a right to accurate pricing—and the right to pay for only what they bought," said Santa Monica Deputy City Attorney Adam Radinsky in a statement. "By adding the weight of containers and packaging, especially on higher-priced, per-pound items like seafood and meats and even prepared food, the extra charges can add up fast, and yet be hidden from consumers."
Whole Foods will have to pay $630,000 in civil penalties, $100,000 to a statewide weights and measures enforcement trust fund, and $68,394 in investigative costs. Also, under the five-year court injunction, the company must conduct random audits and appoint employees and "state coordinators" to oversee pricing accuracy in each California store.
Before it's here, it's on the Bloomberg Terminal.
LEARN MORE