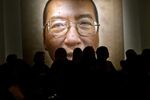 Liu Xiaobo Plaza has got a nice ring to it. That's what a group of U.S. Congressional representatives apparently believe, as shown by their voice vote yesterday to rename a section of street in Washington after the imprisoned Chinese dissident and 2010 Nobel Peace Prize winner.
The call to change the name came in an amendment to the Fiscal Year 2015 State and Foreign Operations Bill, approved yesterday by the House Appropriations Committee. It instructs the U.S. secretary of state to carry out the street rechristening.
If that happens, count on some very upset Chinese diplomats—and that is the lawmakers' intention. The Embassy of the People's Republic of China would be given pride of place on the reincarnated stretch of street, with its present address at 3505 International Place, N.W., becoming No. 1 Liu Xiaobo Plaza.
The move would force Chinese diplomats to mull this dilemma daily: The man their government considers a criminal—and who is now serving an 11 year-term in jail in Beijing for "inciting subversion"—also happens to be internationally renowned "for his long and non-violent struggle for fundamental human rights in China," as the Nobel committee put it in 2010.
China views the congressional move as a "complete farce," said Hua Chunying, a spokeswoman for the Chinese Ministry of Foreign Affairs, speaking in a regular press conference in Beijing today.
Changing a street name as a political statement is not without precedent; in the 1980s, the road in front of what was the Soviet Embassy in Washington was rechristened Andrei Sakharov Plaza to honor the Russian dissident. "Renaming the street would send a clear and powerful message that the United States remains vigilant and resolute in its commitment to safeguard human rights around the globe," Representative Frank Wolf (R-Va.), sponsor of the amendment, said earlier.
Whether or not altering an address can be said to show "resolute commitment" is debatable. But it's certain the move would present resident Chinese diplomats with interesting protocol questions: First, would they correct non-Chinese visitors to the embassy when they inevitably mispronounce the street name outside? Would they update their name cards? And what address would they put on the annual Chinese New Year party invite?
At least one person seems happy. In a Twitter post, Xia Yeliang, the outspoken former Peking University economist, said he called Liu Xiaobo's wife Liu Xia, now under house arrest in Beijing, to tell her about the street name change. "She laughed joyfully" at the news, he wrote.
Before it's here, it's on the Bloomberg Terminal.
LEARN MORE