Who Came Up With That? How MBA Essay Questions Get Written
by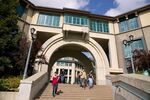 Over the past few months, most MBA programs published fresh admissions guidelines for class of 2016 hopefuls, in some cases changing the directions they give to students for writing required essays. Top schools from Pennsylvania's Wharton School to UC-Berkeley's Haas School of Business asked for fewer essays this year. Other schools played with the format, soliciting video essays or, in the case of MIT's Sloan School of Management, asking students to write their own letters of recommendation.
Admissions offices regularly tweak open-ended questions for a new admissions cycle to yield something from applicants beyond a rote, polished answer. "The hardest thing to get at is to have someone write authentically, without feeling they have to manufacture who they are," says Liz Riley Hargrove, associate dean for admissions at Duke's Fuqua School of Business, adding that her colleagues at other business schools face the same challenge. "People would be surprised how much admissions directors talk." Just as applicants (and admissions consultants) write and rewrite their essays hoping to show how special they are, admissions offices pass boardroom hours lobbing edits back and forth to craft the perfect question. Some fly-on-the-wall moments from top schools yield insight into the process.
Haas: When creativity fails
Admissions officers are clear: They don't want fakers. If a B-school essay question results in thousands of formulaic responses, the school should replace it with a new one the following year, says Stephanie Fujii, executive director of full-time MBA admissions at Haas.
Fujii, a Haas graduate, says she lobbied for the office to reinstate a question that asked whom candidates would want to share dinner with, dead or alive. She remembered the question fondly from when she applied to Haas about a decade prior. But when the office brought it back a few years ago, "it totally failed," Fujii says. "That year everyone wrote about having dinner with themselves or their grandkids in 30 years. It didn't reveal anything really about themselves or what shaped who they are."
The school would later ask candidates which song expresses who they are, but scrapped that, too, this year, to reduce the number of essays from four to three. (The song essay could come back in future years, Fujii says.) "It's an experiment, as it is every year."
Fuqua: "25 Random Things"
Two years ago, Fuqua brought back an old viral favorite from the early Facebook years when it asked applicants to list 25 hobbies, fun facts, or stories about themselves. The school's admissions team had passed their own lists around the office and gave candidates the same prompt, "to get away from the tendency for them to overly manufacture what they think we want to hear," Hargrove says.
"It's pulled color out of applicants," she adds. "You may not have learned about an academic or athletic pursuit they wouldn't have discussed in a regular essay."
Sloan: "Write a professional recommendation on behalf of yourself"
Sloan MBA candidates now have to write a professional recommendation in the voice of a recent supervisor, in lieu of a traditional essay. Rod Garcia, senior director of admissions at Sloan, says they initially struggled to come up with a new essay question this year, but the idea clicked when admissions staff members had to write their own annual reviews.
"Sometimes recommenders do a much better job selling candidates than candidates themselves," he says. "The candidates undersell themselves, so sometimes we're not getting the information that we're looking for."
Northwestern's Kellogg School of Management: Required video essay
Kellogg will require applicants to record a video essay for the second straight year, posing an icebreaker question and getting applicants to discuss why they would choose the program, says Kate Smith, assistant dean of Kellogg's admissions and financial aid office.
Smith says Kellogg already interviews a large portion of applicants face to face, but she was dissatisfied that some still slipped through the cracks. Some applicants may squirm, but Smith says they need to get comfortable with talking on camera. There's no technology barrier: The school administers the video essay, giving applicants two questions that they may take 20 seconds to ponder and 1 minute to answer. (They also get practice runs, if they want.) "This is now a skill that students are going to need to have in the globally complex landscape of business," she says.
One third of MBA applicants surveyed by the Association of International Graduate Admissions Consultants said they did at least one video essay last year, according to an AIGAC report last month. Half of the applicants living abroad and nearly 40 percent of U.S. applicants said video components of applications either did not represent them very well or did not represent them at all.
Chicago's Booth School of Business: A deck to "broaden our perspective on who you are"
Booth embraced a medium several years ago that's commonplace in the corporate world: PowerPoint. The admissions office tries to get to know candidates by asking for a four-slide deck (or a 600-word essay) and by cutting down long essays to 250-word responses to such prompts as "I started to think differently when …."
When the office decides on essay questions each year, "the PowerPoint keeps coming back as something that's distinctively Booth," says Kurt Ahlm, associate dean of student recruitment and admissions. "An open platform is a way to see how they think."
Schools don't expect students to breeze through the essay portion of the application. But if an essay question seems way out of line with a student's interests or expectations, the student might consider what Ahlm says about those who struggle with Booth's offbeat slide-deck challenge: He or she probably isn't ready for that B-school.
Before it's here, it's on the Bloomberg Terminal.
LEARN MORE