Building Golf Courses in China: An Illegal and Booming Industry
Christina Larson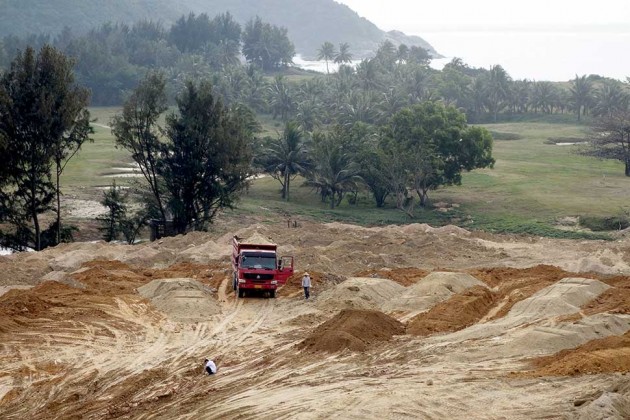 Like the U.S., China has an extensive national park system. Still, its designated parklands aren't always protected from economic development. On Tuesday, Beijing Youth Daily published an investigation into how 20,000 acres of protected land in southern China's Guizhou Forest Park were converted into golf courses, padding the pockets of local developers.
A  telling note: Since 2004, construction of new golf courses has been illegal in China, following a directive of the State Council. The poorly enforced regulation hasn't stopped the number of golf courses from multiplying from 170 in 2004 to more than 1,000 today—a more than fivefold increase in a decade, according to the paper.
The quixotic rise of golf in China—where Mao Zedong once lambasted putting as a bourgeois pastime—is the subject of a new book by the Asia Society's Dan Washburn. In The Forbidden Game: Golf and the Chinese Dream, a charming and accessible work, Washburn follows the lives of three men whose careers are shaped by the sport: an American golf course designer who finds work in China, a budding Chinese tournament golfer, and a farmer whose land is converted into fairways.
As Washburn observes: "Golf, its emergence and growth in China, is a barometer for this change and the country's rapid economic rise, but it is also symbolic of the less glamorous realities of a nation's awkward and arduous evolution from developing to developed: corruption, environmental neglect, disputes over rural land rights, and an ever-widening gap between rich and poor."
As golfing shops and even golf-focused magazines proliferate in China, so do stories of land-grabbing and graft involved in greasing construction deals, such as the report in Beijing Youth Daily. Meanwhile the prestige of joining golf clubs grows—providing opportunities to network with wealthy and well-connected peers—as do potential political pitfalls. Washburn reports that, in an attempt to duck headlines, China "politicians register at golf courses using fake names."
Before it's here, it's on the Bloomberg Terminal.
LEARN MORE