Aereo Lost at the Supreme Court. Now What?
By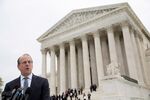 The Supreme Court has decided that setting up hundreds of tiny antennas, capturing television signals, and charging people to watch is a public performance. So ends the dream of Aereo, the Internet startup that thought it had found a clever way past copyright laws and spent its short lifespan battling broadcasters in the courts for its right to exist.
In legal terms, the 6-3 decision argues that Aereo violates broadcasters' copyrights by distributing their work without their permission. The decision, delivered by Justice Stephen Breyer, says the court was unconvinced by Aereo's argument that it was an equipment provider allowing people personal access to content they were legally allowed to access. Aereo's business model—in which broadcasters received no fees from the startup—has been belittled as a Rube Goldberg contraption to get around copyright law. The Supreme Court ruling said that only "behind-the-scene technological differences" separated Aereo from cable providers.
This decision doesn't keep companies from taking broadcast content and sending it over the Internet; it only requires that such companies get the permission of the companies that hold the copyright to this content. Cable-TV companies and satellite TV services will pay $4 billion in so-called retransmission fees to broadcasters this year, according to media analysis service SNL Kagan. This decision defends that status quo.
The court also stressed that this decision was really about Aereo and that the company's claims that the entire cloud-computing industry would be in danger if it lost are unwarranted. In a statement, the broadcasters said the decision was a "victory for consumers." BMI, one of the major performing-rights organizations for musicians, also quickly praised the court. "We are gratified by the U.S. Supreme Court's recognition today that there should be no free rides on the backs of creators and content owners," said Michael O'Neill, the organization's chief executive, in a statement.
Not even the justices who dissented had much love for Aereo. "I share the Court's evident feeling that what Aereo is doing (or enabling to be done) to the Networks' copyrighted programming ought not to be allowed. But perhaps we need not distort the Copyright Act to forbid it," writes Justice Antonin Scalia. He says that a "looks-like-cable-TV" test is bound to cause confusion as new technologies are developed. Aereo may have exploited a legal loophole to operate, but Congress should be the one to fix it, he argues.
Aereo's founder, Chet Kanojia, said in a statement that the court's opposition was built on shaky foundations:
"Today's decision by the United States Supreme Court is a massive setback for the American consumer. We've said all along that we worked diligently to create a technology that complies with the law, but today's decision clearly states that how the technology works does not matter. This sends a chilling message to the technology industry. It is troubling that the Court states in its decision that, 'to the extent commercial actors or other interested entities may be concerned with the relationship between the development and use of such technologies and the Copyright Act, they are of course free to seek action from Congress.' (Majority, page 17) That begs the question: Are we moving towards a permission-based system for technology innovation?
Others who aren't happy with the decision worry that it protects big entertainment companies who are reluctant to provide services that customers might want if they come with inherent risks to their existing business models. The online video trend hasn't undermined the incredibly lucrative television advertising business yet, but it seems inevitable it will do so in the future. As a result, existing broadcast and cable companies are only tentatively exploring Internet video, withholding some of the things that people want the most, like live sports.
"The broadcasters are scared," says Nicco Mele, who teaches digital media at Harvard's Kennedy School of Government. "They know people want flexibility. they are not providing that flexibility — they're trying to shut down people who are." This decision seems to be a validation of this approach.
Aereo has said that it didn't really have a Plan B if it lost in court, so the question now is how—or if—it forms one now. It said that it would continue to "fight to create innovative technologies that have a meaningful and positive impact on our world" The company has raised $100 million, and Internet television is still a huge opportunity. It stands to reason that Aereo will continue to try to capitalize on this, especially given the cachet earned by playing the role of innovator in the Battle for the Future of Television.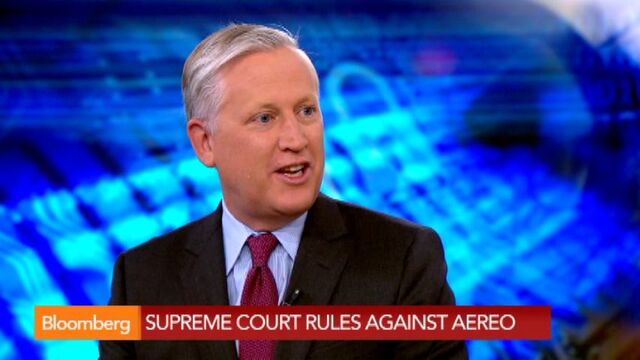 Before it's here, it's on the Bloomberg Terminal.
LEARN MORE